Toshiba Qosmio X770 17.3in 3D gaming notebook
Fully loaded
Review When Toshiba UK announced the launch of the Qosmio X770 3D – a new gaming laptop with stereoscopic 3D graphics and a 17.3in HD screen, I immediately thought: could this be an Alienware killer? Toshiba has been said to lag behind other manufacturers when it comes to high-end gaming laptops, but after spending time with the X770 I would suggest that's no longer the case.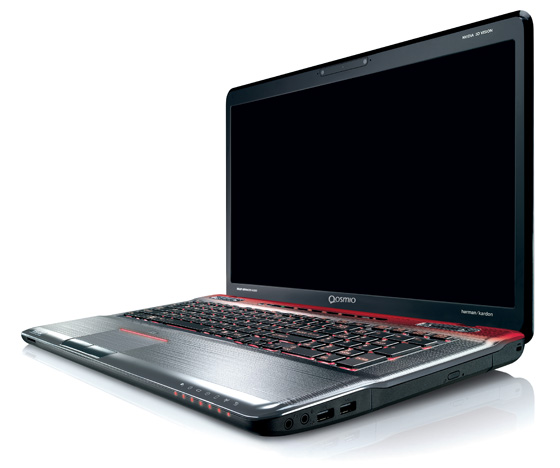 Taking the heat: Toshiba's Qosmio X770
The sample Qosmio X770-10J came in a huge leather case and I did wonder if it was going to unluggable. Indeed, portability isn't the X770's forte, but being 3.4kg doesn't render it immobile. It's still not comfortable to carry around for significant periods, even in my Crumpler backpack.
I really liked the texture imprinted into the plastic housing, which I am guessing is supposed to reference a Matrix-like data stream but reminded me not unpleasantly of retro 1970s wood feel.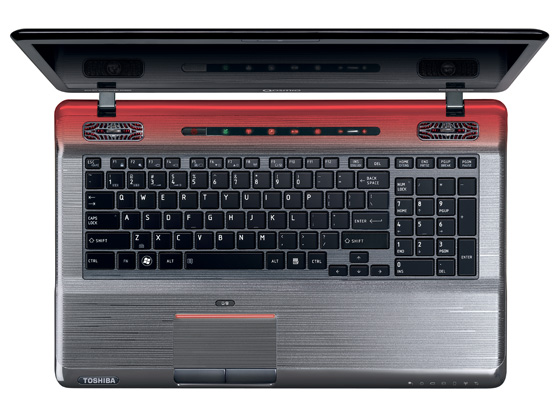 Harman-Kardon stereo speakers and sub-woofer on-board
Red gradient highlights on the sturdy chassis and across the speaker grilles – this machine's one design fault: these grilles look cheap and nasty – work well with the tiled keyboard's red backlighting. I hate to say it but this is a goth's laptop – all red backlighting and black chrome. Indeed, the amount of red light leaking out reminded me of a certain area in Amsterdam.
I love the tiled keyboard - it oozed quality. The keys were nicely spaced and delivered excellent response to touch. Along the top is the Toshiba's EasyControl bar, a glowing array of multimedia function keys that, at the touch of a red button, can be extinguished if it's too gimmicky for you.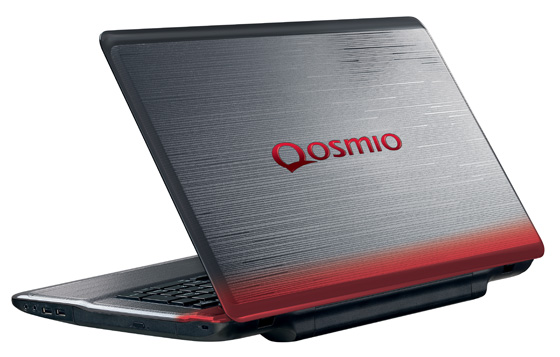 The styling of gaming laptops will always evoke mixed opinions – this one should appeal to goths
I was immediately impressed with the 17.3in 1920 x 1080 screen – it's gorgeous. Viewing from any angle is clear, both horizontally and vertically. Fancy watching movies with that special someone? It's only the weight of this notebook that will stop you moving in for a smooch and perhaps, your nearest and dearest's attention will be on the HD display, anyway.
Sponsored: Minds Mastering Machines - Call for papers now open