The effects of Consumerisation results
The readers speak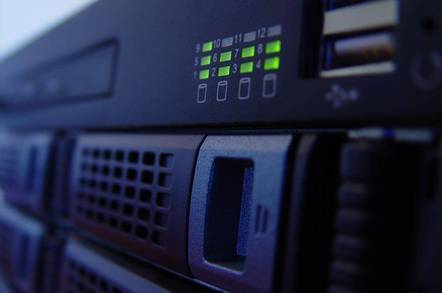 Reg Research The results of our mega-survey on consumerisation are in. It was a big sucker, and all those who completed it should be congratulated for their stamina and commitment. And your efforts really are appreciated, because we learned a lot.
In the first part of the survey, we asked readers to tell us about their own use of personal equipment and personal internet service accounts at work, starting out by looking at the mix of devices they own (Figure 1).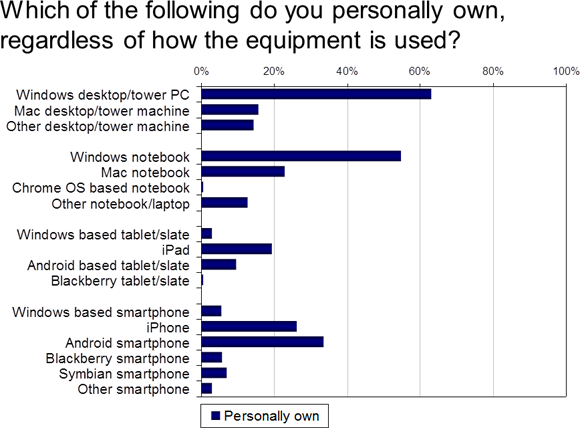 As we can see, Windows dominates the personal desktop and notebook space, though we see a good showing of Mac notebooks, with Linux (which made up most of the 'Other' category) putting in a reasonable appearance too.
Having said this, we need to be careful not to take the figures on face value – we know from experience that Mac and Linux users have more of a tendency to complete online surveys to do with end user computing than Windows users because they are keener to promote their chosen platform. Non-Windows users are therefore almost certainly over-represented. The same also goes for gadgets in general in that tablet and smartphone users like to talk about their kit. We would be surprised, for example, if 1 in 5 Reg readers owned an iPad, which the data would suggest if you took it literally.
But the bias doesn't stop us extracting some valuable insights, like those we get when we look at the proportion of users of each type of device employing their personal equipment for work purposes (Figure 2).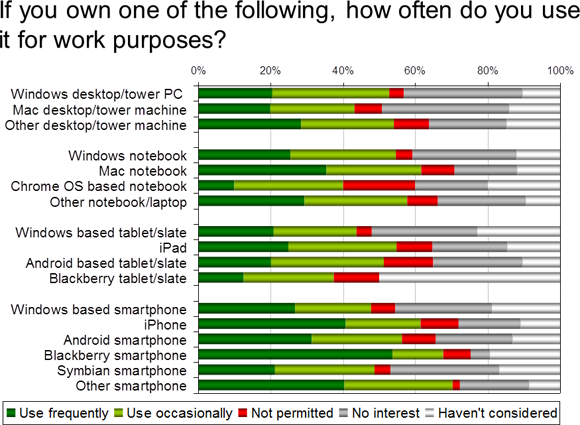 There are a couple of important observations we can make from this chart. Firstly, while there is some variation, it would be incorrect to assume that this aspect of consumerisation, i.e. the use of personal devices for work, is associated with particular kit. If you have a personal MacBook, for example, you are only marginally more likely to want to use it for work than owners of Windows notebooks. The same goes for iPhones versus Android smartphones and the various kinds of tablet devices. According to this data, at least, the often heard assumption that Apple is driving the consumerisation of IT would seem not to be true.
The other important observation is that the number of readers who say they would like to use their device but are not permitted to is relatively small. The question of policy in this area and how well it is enforced is an interesting one, and we cover this in more detail in the full study report.
In the meantime, the other aspect of consumerisation we looked at was the use of personal accounts for public internet services (Figure 3).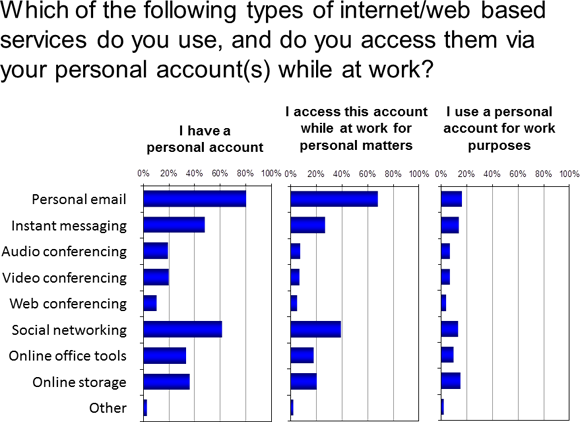 This chart tells us is that there appears to be a lot more logging into personal accounts at work for personal activity (second column) than using those accounts for work purposes (third column). The stories we hear about youngsters driving a wholesale change in corporate behaviour would therefore appear to be somewhat exaggerated. Indeed, when we break the results out by age, it's clear that Generation Y is not, on the whole, coming into the organisation, refusing to use clunky old systems, then using Facebook and other familiar services to get their jobs done. They might be more inclined to flout rules about doing personal stuff on company time, but sneaking a quick look at your personal email or social media account is something quite a few people are guilty of in all age groups (Figure 4).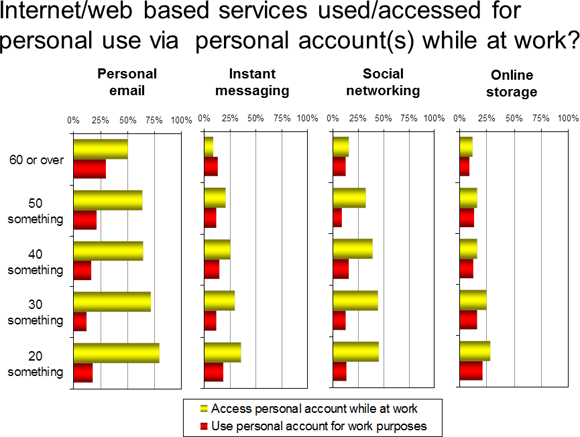 Of course everything we have been looking at here relates to readers' own use of personal technology and services for work. In the second part of our mega-survey, we asked those who participated to tell us what is going on across their organisation's workforce as a whole.
To see the findings, including an analysis of whether consumerisation really does lead to the frequently claimed productivity benefits, you'll have to download the full report right here.
Sponsored: Minds Mastering Machines - Call for papers now open