E-book maker speeds E Ink Pearl tech
Bookeen unveils High Speed ​​Ink System
French e-book reader maker Bookeen, seemingly unfazed by Amazon's new Kindles, has announced the first of "a new generation of electronic books" with a new display tech.
Dubbed the High Speed ​​Ink System (HSIS), the technology will debut with the Cybook Odyssey, due out in Europe in the "coming weeks", Bookeen said.
Alas, it hasn't said much about HSIS, other than noting it is indeed based on E Ink's technology but is "faster, more responsive and more fluid" than E Ink's current screen, Pearl, found in Amazon's Kindles and Sony's Readers.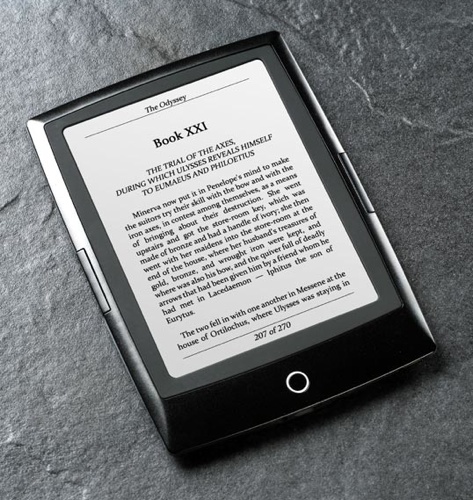 It's able to deliver the "responsiveness of LCD tablets like the iPad", Bookeen claimed.
Back in February 2011, Bookeen demo'd an E Ink Pearl screen capable of video playback. The demonstration used an ARM Cortex A8-based Texas Instruments OMAP 3621 processor - something Bookeen said the Odyssey possesses.
At the time, Bookeen hinted that the trick is all done in software. Presumably, it's able to calculate only the pixels that need to change, and to refresh those, saving the full-screen refresh seen on past e-book readers.
Past, but not current. The new Kindle, for instance, does a full-screen refresh every five page turns, not every single turn. The result is a faster page transition, but at a cost: by the time the last, pre-refresh page is being shown, text quality is much reduced, as you can see in this description of the phenomenon.
That's a big issue for readers, but less of a problem with rapidly refreshing video.
Or perhaps Bookeen has solved the quality issue. We'll find out when the Cybook Odyssey debuts. ®
Sponsored: Minds Mastering Machines - Call for papers now open