Panasonic DMR-HW100 HDD DVR
3D-savvy telly timeshifter
Content delivery
Time-shifted shows automatically generate their own Chapter Views, but you can manually create your own. This feature comes into its own with live music content, for example. You can change the thumbnail image if you don't like the one automatically provided. Recordings can also be divided or partially deleted, perhaps to trim away adverts?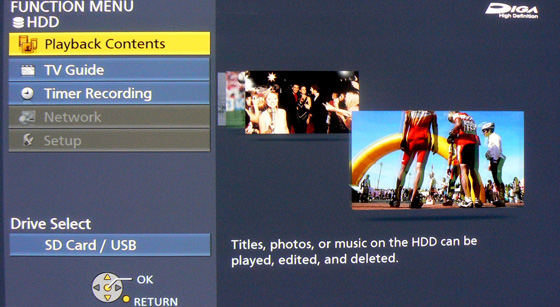 Animated thumbnails for video navigation
The DMR-HW100 is both hit and miss when it comes to jukebox functionality and multimedia playback. The former works well. Insert a USB stick into the front fascia and you're presented with options to play the contents or copy them - if compatible - to the hard drive. This is handy if you want to squirrel away holiday JPEGs, in order to ambush wayward neighbours.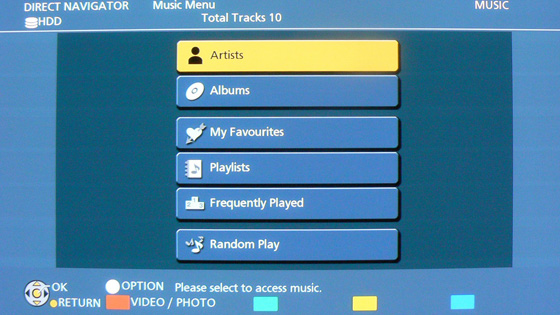 Music navigation
Once copied to the hard drive, the content can be stored in albums and associated with background music. Using the DVR to back up your MP3s is similarly straightforward. Unfortunately, presentation isn't much to crow about, especially as there's no album art support.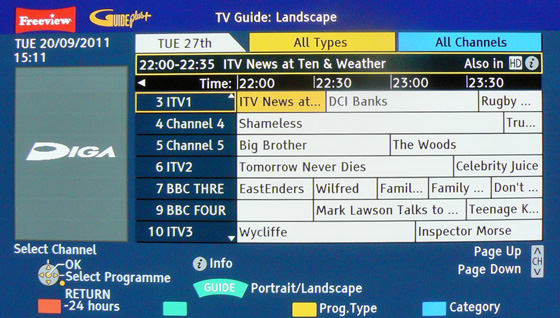 EPG schedule
File compatibility from USB can be classed as 'good enough'. The DMR-HW100 can read both AVI and MKV wrapped content. Unfortunately, the recorder is less happy streaming the same material over a network. While the DMR-HW100 could see my Nas devices, it couldn't play those same files. An SD card slot allows you to peruse camcorder footage in MPEG 2 or AVCHD, as well as JPEG and MPO 3D stills.