Panasonic DMR-HW100 HDD DVR
3D-savvy telly timeshifter
Review Panasonic returns to the UK DVR market after an abortive early foray, with a 3D-enabled, media-streaming TV recorder. Rather more convincing than the brand's first generation model, the DMR-HW100 offers access to the online VieraCast portal, has jukebox functionality and is only slightly bonkers.

Panasonic's DMR-HW100 offers one way of getting your 3D photos up on the screen
Panasonic's Blu-ray recorders, while technically impressive, seem almost wilfully complicated in this era of Sky+ and TiVo. Thankfully, this Freeview HD DVR is significantly more approachable. It doesn't baffle with a multitude of recording modes, for one.
Indeed, timeshifting is a doddle. Simply select what you want from the EPG or catch it when it happens. The DMR-HW100 will prompt you to opt for HD should a programme you want to record be available in high definition. The deck has a 320GB hard drive, not exactly generous but enough to store nearly 80 hours of hi-def.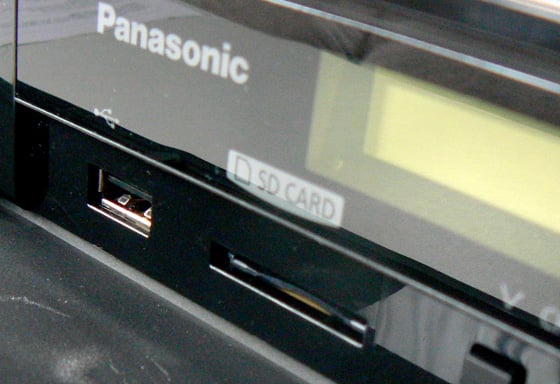 Convenient front-mounted USB and SD card slots
The unit has twin Freeview HD tuners, enabling you to record two channels simultaneously. You can also play back recordings before they've finished, view media on USB, and look at other DLNA devices on your network.
The programme guide is Panasonic's standard Gemstar/Rovi offering, so disliked on the brand's TV range. It has advertising slots - which Rovi, rather than Panasonic, benefits from - and doesn't offer much of a view when you want to scout for upcoming shows. On the plus side, all the usual Freeview+ HD functionality is here, including Series Linking and timer padding.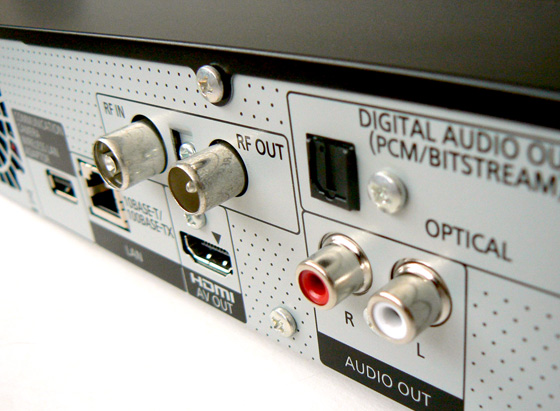 The HDMI output is 3D-compatible
Recorded image quality is true to the original transmission, with no extraneous artefacts. Naturally, hi-def recordings look immeasurably better than Freeview's blocky SD fare. There are also a number of advanced picture processing tweaks on hand, should you feel the need.
COMMENTS
Adverts?
On a piece of CE equipment that cost 300 notes! Do Panasonic actually want to sell the thing?
PVR adverts
I have a "Dual" brand freeview PVR that cost me £80 from Asda 5 years ago.
It has a full-width program guide with NO ADVERTS and a handy vertical red bar that tells me at a glance what is just about to start/finish, plus a thumbnail description of the program I am flicking past.
SONY/PANASONIC et al - pay attention to this.
I am ready to buy a freeview HD recorder.
I want it to be at least as slick as the Turkish PVR that sits under my Japanese telly.
I haven't bought a Radio Times in 25 years.The obtrusive ad on the left-hand third of my screen is not *ever* going to coax me to change my mind!
EPG Ads
Good on ya for knocking the points off, but could you make it more like 100 points next time? -15 is surely a score to make people sit up and take notice.
Erm, http://www.reghardware.com/2011/07/02/review_panasonic_tx_p65vt30_3d_tv/page2.html, looks like space for EPG adverts on a 4.5k 65" plasma.
Think a 10% penalty is too light, to be honest.
Regards, Iain.
Read the reviews on Amazon before buying a Panasonic
I was recently going to buy a Panasonic Freeview HD recorder for my parents but was put off by all the people complaining about the adverts being displayed on the programme guide. It put me right off.
Also, if you look on their website you'll discover that the only way to contact Panasonic is to write to them by post. Why would you want to do business with such a company. There are better options. I went with a Humax eventually and my parents are really pleased with it.