Lovefilm Player for iPad
Video on demand for your fondleslab
iOS App of the Week Well it's about time. LoveFilm may be the UK's main disc rental and video-on-demand service, but it's taken it a disappointing amount of time to get its act together as far as iOS is concerned.
Apple's loathing of Flash video isn't Lovefilm's fault, of course, but plenty of other companies have already produced iOS-specific apps in order to deliver streaming video content. Until now, though, LoveFilm's only iOS app was a rather limp effort that merely allowed you to watch trailers and order DVDs through the post.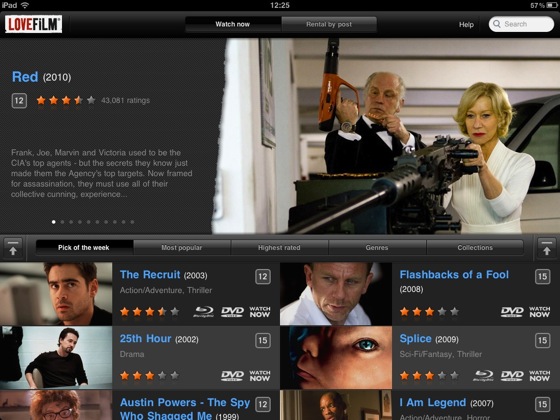 Not really enough movies to view
The company's new Player app isn't perfect – it only runs on the iPad, for starters – but at least it provides a decent streaming video option for iPad-owning subscribers.
The app's interface is tidy and straightforward. By default, the app starts in 'Watch Now' mode, which allows you to browse the movies that are available for immediate streaming, but there's also a 'Rental By Post' option too.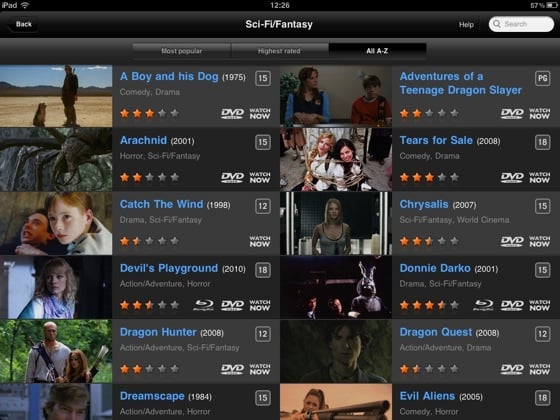 Drill down into your favourite genre
And, thankfully, there's no sign that LoveFilm is going to follow in the footsteps of US company Netflix by splitting the online and offline rentals into two separate businesses.
You can browse films alphabetically, by genre or rating, and if you've got one of LoveFilm's "unlimited" subscriptions, which start at £5.99 a month, then all the films are free to watch. Other subscribers are limited to watching a certain number of hours, depending on the specific subscription they have.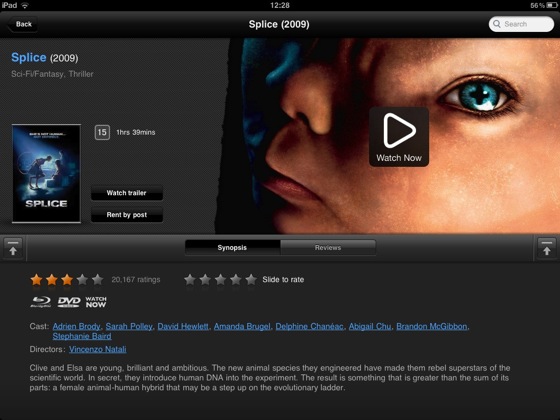 Tap to watch in a regular iPad-style movie viewer
I was pleasantly surprised by the video quality, but disappointed to find that the app doesn't offer you anything like the selection of films and TV programmes that are available on the company's Flash-based website. SF buffs are offered a mere 50 titles, although the more general "drama" section offers around 300.
Improve the range of movies, Lovefilm, and I'll give you a higher rating.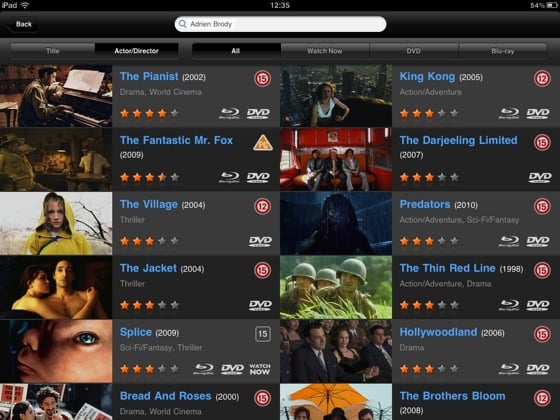 Not all of the titles found in a search are available to view - many are only offered as disc rentals
LoveFilm does say that more films will be added each month, but I can't help wondering about the company's priorities now that the Amazon corporate mothership has just launched its own would-be iPad-killer in the form of the Kindle Fire. ®
We make our selection of the best iOS smartphone and tablet downloads every Thursday. It you think there's an app we should be considering, please let us know.
More iOS App of the Week Winners

Meter
Readings
Flipboard
Bike
Hub
Adobe
CreatePDF
TextGrabber
Sponsored: Minds Mastering Machines - Call for papers now open

Lovefilm Player for iPad
A well designed app that offers good quality streaming video to Lovefilm subscribers.