Motorola Pro+

OK, let's assume you want a good smartphone but with a real keyboard. That could mean exile to BlackbBerry-land. But fear not, while there's no iOS phone for you there is an Android. Packing in a 3.1in, 640 x 480 touchscreen and a 35-key Qwerty deck, the Pro+ means you can have your input cake and eat it.
While most Android messenger phones are budget gutless wonders, the Pro+ boasts a Texas Instruments OMAP 3620 1GHz CPU with 512MB of Rom and 4GB of storage. In the admittedly limited time I got to play with the Pro+ - the official UK release is still a month or two away - I was very impressed by the keyboard which gives little away to the the best from RIM.
Unlike the first Pro, which never made it to these shores, the Pro+ has dumped Motorola's unpopular Motoblur launcher in favour of something less resource-hungry and a lot more attractive. The new curvaceous body design is a welcome improvement too. The 1600mAh battery should give a decent time between charges with only 300,000-odd pixels to worry about.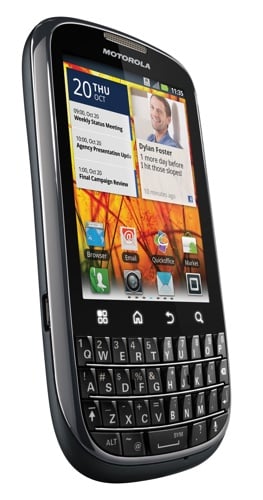 Reg Rating 80%
Price TBC
More Info Motorola
Samsung Galaxy S II

Proving that making a handset in white as well as black actually isn't all that difficult, Samsung's Mk. 2 Galaxy S is, depending on whose numbers you read and believe, the best-selling smartphone of 2011, though clearly that's an achievement helped by the iPhone 4 having been released in 2010.
The reason? The 4.3in, 480 x 800 OLED screen, which by general acclamation is the best mobile phone screen known to man or beast. The top-end spec and rather cool 8.5mm profile may have something to do with it too along with Samsung's Apple-worrying global sales and marketing clout.
Despite the 1.2GHz dual-core CPU, 1GB of Ran and 16GB of storage, I'm slightly put off the S II by Samsung's TouchWiz launcher, which just doesn't get my juices flowing. And while the design is very sleek and clean I think it's also just a bit dull. Given the choice, I'd rather have the HTC Sensation, though the Galaxy S II is still a very, very fine device.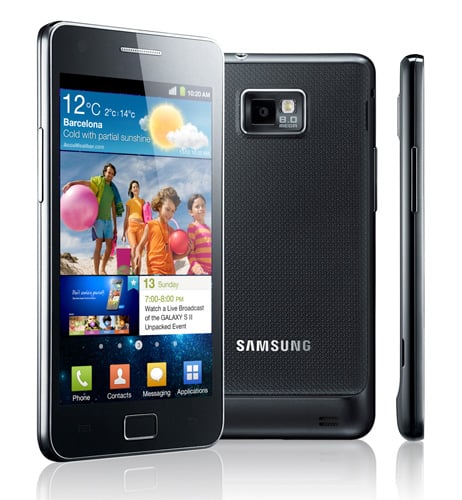 Reg Rating 85%
Price £455
More Info Samsung
COMMENTS
"we need a word for the people who hate all things Apple"
Sane, rational, commonsensical, realist, pragmatist, intelligent... there are many more I reckon.
Let the downvotes commence...
"To be honest, I find the whole charade rather entertaining and have taken to sauntering over to the Trafford Centre come launch day, grabbing a cup of coffee and a sticky bun, pulling up a chair and making fun of the twerps lined up outside the Apple Store opposite."
Queuing is a bit sad but going out of your way to watch people queuing - that's a whole new level.
Journalistic licence
You can't actually see the Apple store from a coffee shop in the Trafford Center (the gf works there so I'm more familiar with that temple to consumerism than I really want to be) so I think that's a statement for effect rather than a literal truth.
Every time there is an Apple launch you will see local hacks or news crews taking pics etc and I guess the Reg's man goes along for the same reason.
It's still a fair comment though, I walked past that same store on the day of the iPad2 launch and the saw the queue and my only thought was "cretins". I mean seriously what kind of grown man stands in line to buy a gadget?
I stood in line at an HMV to buy the Joshua Tree LP many moons ago but I was only 14 at the time!
Ramble
Interesting article - not sure they are all iPhone 4S beaters per se, but there are some very decent phones there. Moved away from 3 years of iPhone (3g and 3gs) use 3-4 months ago to android and the Galaxy S2, and couldn't be happier.
I moved after some spectacular fails on the part of Apple service (I got robbed on the iStore and they utterly failed to do anything about it - refused to reverse the transactions, refused to even say whether or not they'd help the police in a trivial prosecution, and avoided answering any question, instead using boilerplate text designed to get me to go away).
My first iPhone (3g) had suffered a hardware failure after 15 months forcing me into another iPhone (3gs) contract (particularly if I wanted to retrieve my contact data and not pay another £120 unwanted airtime), and when the glass screen of the new one cracked the apple shop wanted to replace it for a 'very generous' refurbished phone price of £249. The internet provided me with the solution to that for £13 and about 20 minutes of my time with a hair dryer.
I loved the iPhone and iOS a lot and recognised that (from the 3g onwards) it was a real game changer. My early adopter friends with android were singing it's praises and so I periodically got to play with their phones. In my own opinion the UI overtook iOS about 18 months ago, and when my contract expired I moved over to android.
It took me a weekend to de-iTunes my computer (re-encoding my music to normal formats - not entirely necessary - but cathartic), a couple of abortive efforts to buy a 32gb class 10 microsd card from eBay for small money proved annoying, but easily resolved by moving to class 4 (there's only music on there so it was irrelevant). After that it was plain sailing - I bought the Galaxy S2 outright, sold off the old 3gs, moved to giffgaff, and will have repaid the TCO difference within 10 months - so I'm no longer trapped to a contract after a phone has run out of warranty, and if giffgaff ever give me trouble I'll immediately move, at a loss of, at most, a tenner. It also has a 3 year accident and spills warranty purchased for £49 via Amazon - considerably cheaper, longer lasting and wider ranging than Apple's warranty offering. If you have the initial cost of the phone available it's something of a no-brainer to stay out of a contract.
Android isn't entirely perfect - the native music player's shoddy and pod-casting is handled poorly generally, but the market place solved those pretty cheaply. I've had no problems with the market place and, since android outsells iOS 3-1 (approx) at the moment, there are more than enough apps (usually free) to keep me happy, and I suspect that won't change. I also invested another tenner in a couple of spare (Samsung branded) batteries and a wall charger for them, meaning my phone never needs to be tethered to the wall for any length of time. I'd love the android phone community to place a sufficient capacitor in their next generation of phones to make the batteries hot-swappable.
I can't speak for the other phones but have to say the Samsung Galaxy S2 is far and away (for it's time) the best phone I've ever owned (including my old beloved SE T28). After a few months it's never felt flimsy (a complaint I often see bandied about it) and always felt light with plenty of screen space for not much bulk.
I also can't believe that Apple seems to be getting away with claiming it's twice as fast for internet because they finally support hsdpa. That's some brass neck.
Cheers for reading this far - I hope that was an honest depiction of how a former fanboi found happiness elsewhere... I still have lots of friends who rave about their iPhones and more power to them, but I reckon I've found the greener grass.
@Ian Watkinson
Boxster Syndrome? Oh bless.
You really think that spending an extra hundred quid on a phone is in any way comparable to spending an extra forty or fifty grand on a car? Really?
Apple products are quite often lovely, but to imagine that buying them marks you out as a big shot is hilarious. It's the technodweeb equivalent of bragging about how much you paid for your Adidas sneakers.