Five... great iPhone racers
Motor-vation
iGamer If there was any doubt about the suitability of the iPhone or iPad as a platform for racing games, the sheer variety, number and quality of those now available on the App Store has surely killed it stone dead.
So many, in fact, that picking a decent one can seem daunting. Here's a helping hand: what I think are the five best ones. It's hugely subjective, and if I've missed out your favourite racing game, let us all know about it in the comments. Or flame me.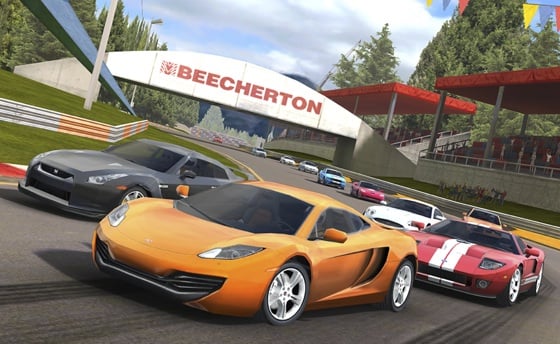 The list below contains racing games that cover the gamut of the genre, from the brilliantly realistic Real Racing HD, to the karting fun of Sonic All-Stars Racing, and the topdown coin racer LilRacerz Pro. Rev your engines…
Sonic All-Stars Racing

Fans of Mario Kart will need no encouragement to play this, the closest thing on iOS to that iconic game. Play as your favourite Sonic character on 15 courses and dodge obstacles, fire missiles and pull All-Star moves. There are 25 missions, three grand prix trophies and a battle mode which allows you to duel it out with a competitor. There are online and Bluetooth modes to add to the fun.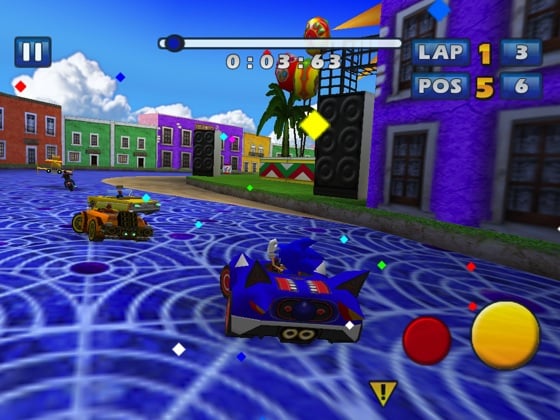 Reg Rating
70%
Price
£1.99
Download
iPhone/iPad
Reckless Racing HD

If speeding along a dirt track in an old jalopy is more your thing than burning rubber in the latest sportster, Reckless Racing HD is a must. The iPad version has eight tracks, each with an unlockable reverse version. Drive Cletus' jeep, Lurlene's hot wheels, Floyd's wagon or one of eight other vehicles. With three modes - Dirt Rally, Hot Lap, and Delivery - and the opportunity to progress from Bronze to Gold, and to play online, there's enough here to keep you yee-hawing for hours. Oh, and there's banjo music too.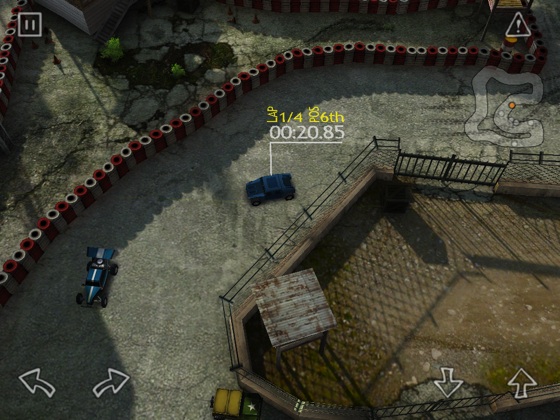 Reg Rating
75%
Price
£2.99 (iPad) £0.69 (iPhone)
Download
iPad
•
iPhone
•
iPhone free version
COMMENTS
re:Meanwhile on Android....err...nada.
Can I add a pointless comment to that pointless comment ?
y.. yes ?
You sir are a cretin.
Ground Effect
I found Lil'Racerz to be very buggy, unfortunately. It was fun and had lots of amusing touches (for example you can run over the spectators if you skid off the track and they'll try to run away from you).
I've really enjoyed Ground Effect by the guy who wrote Populous. It's a very chilled out racing game.
Asphalt 6
I quite like Asphalt 6, nice graphics and some tricky challenges plus you can get add ons for your car too which is nice. It does tend to drain the battery quite quickly though as do most graphic intensive games.
viability of the platform
I would love a decent racing or 1st person shooter on either my iOS device or my Android tablet, but there is a flaw.
By having controls that are on the screen;-
1) My fat fingers get in the way of what i am looking at
2) My excitement and distraction by the game play means my fingers slide off the controls leaving me wondering why i am dieing/crashing and no longer controlling.
Bring back the N-Gage or stick to the proper console for non-strategy/puzzle games.