Rumors of iPod classic's death prove exaggerated
The clickwheel lives on, touch-based iPods upgraded
Updated The lack of an iPhone 5 announcement at Apple's "Let's talk iPhone" event wasn't the only pundit–defying act performed by Apple CEO Tim Cook and his merry men: despite rumors to the contrary, the venerable iPod classic also lives.
As does the iPod shuffle, Apple's $49, 2GB bare-bones digital music player. Those two iPods, however, received no updates – or stage time – on Tuesday. Those honors were reserved for the iPod nano and the iPod touch.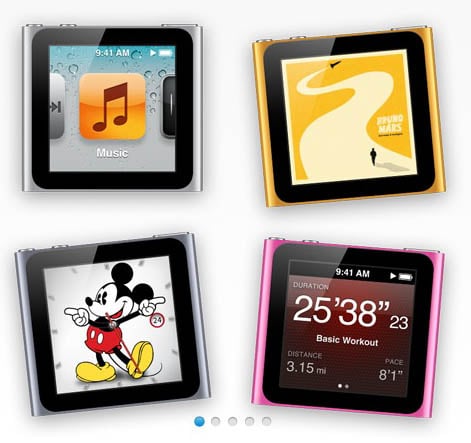 Note to commenters: any and all jokes about the iPod nano being a Mickey Mouse device are encouraged
The new iPod nano now has the ability to act as a digital pedometer, enabling it to track your workouts on the Nike+ web service without those annoying track-shoe dongles that were previously required.
Apps on the new iPod nano are now swipeable, making it easier to move from one app to another.
And speaking of apps, the watch app now has 16 different faces, so should you choose to carry yours in a iWatchz Q Series watchband and you happen to be a fan of a certain four-fingered rodent, Apple has you covered.
The iPod nano's prices have dropped a bit: it's now $129 for 8GB and $149 for 16GB, and is available immediately.
The iPod touch has been updated and repriced, as well: it now runs $199 for 8GB, $299 for 32GB, and $399 for 64GB.
New features include AirPlay support to stream video, photos, games, and music to a big-screen TV either wired or wirelessly, and – the feature you've all been waiting for – it'll be available in both black and white when it appears on October 12, the same day that iOS 5 and iCloud make their debuts.
Seeing as how the most capacious iPod touch is a mere 64GB, the 160GB iPod classic still fills a need for those users who want to keep their entire music collections on one device. With prices of flash memory dropping, however, don't expect the hard drive–based iPod classic to live forever. ®
Update
A previous version of this story said that the iPod touch's 960-by-640-pixel, 326 ppi display was an upgrade from the previous, 4th generation iPod, when in fact, that iPod had the same display specs, and that the iPod touch shot HD (1080) video and was equipped with an A5 processor, when it is actually limited to 720p video, and – although Apple's not saying – numerous sources report it still has an A4. It appears that your doltish reporter muddled his iPhone 4S and iPod touch stats – our apologies for the thorough bollixing.
Sponsored: Minds Mastering Machines - Call for papers now open