Fusion-io deploys PCIe flash toaster
Self-healing powers claimed if you play the magic card
Better availability
Flynn said that MLC flash products makes up about 80 per cent of Fusion's business. It actually started shipping 2Xnm-class dies some months ago on the ioDrive Octal product, a custom product generally sold direct to large customers; where 3Xnm devices could hold 5.12TB of data, 2Xnm-class kit now stores up to 10TB.
It self-heals to the point where it covers for subsequent failures ad infinitum. We don't believe that customers should have to service anything.
The first-generation product had N+1 redundancy at the chip level. Flynn said that the next-gen product is self-healing. Its Adaptive FlashBack technology provides full chip level fault tolerance, which enables an ioDrive to repair itself after a single chip or a multi chip failure without interrupting business continuity. The repair process takes about an hour: "It self-heals to the point where it covers for subsequent failures ad infinitum. We don't believe that customers should have to service anything."
This idea that customers should not have to replace modules reminds us of XIO's Hyper ISE, that sealed canister of drives with a 5-year warranty against customers ever needing an engineer to poke around inside it and replace failed components.
Flynn said Fusion-io has added endurance extending technologies to the ioDrive 2 products. There are no published endurance numbers, though we expect, given Fusion's OEM customers, that endurance is good. Flynn said that the endurance has increased with the ioDrive 2 products.
Fusion's competition
There are several competitors who have been waiting for this Fusion refresh: Micron, OCZ, STEC, TMS and Virident are the main ones. They use a 4KB block size for their IOPS numbers.
All we can compare are raw numbers, and hope the numbers are divergent enough to indicate meaningful relationships, even though it's an apples and oranges comparison, apart from the 4KB numbers for the ioDrive 2 Duo SLC product.
Micron's rocket-like P320h, a 3Xnm SLC product, does 750,000 read IOPS and 341,00 write IOPS, with 3GB/sec read and 2GB/sec write bandwidths. The read IOPS are significantly higher that the 503,000 of Fusion's ioDrive 2 Duo SLC but significantly slower than the Fusion product's 4KB write IOPS. With 512B blocks, the Fusion product is almost twice as fast on write IOPS though, while being a mere 50,000 IOPS slower on reads and overall faster on bandwidth. The medal goes to Fusion overall then.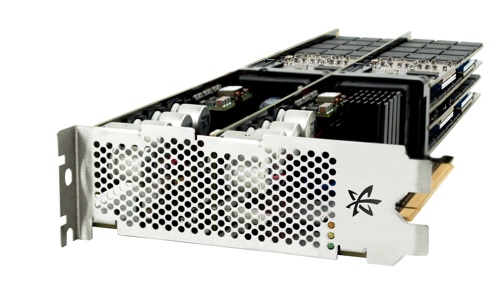 Fusion-io's ioDrive Octal
OCZ's VeloDrive PCIe numbers are simply incomprehensible: for example, read IOPS are expressed in MB/sec for hardware RAID, while software RAID speed is quoted for compressible and incompressible data. We give up. Give the dratted thing a test drive alongside the Fusion product to make a comparison in your own shop.
"This thing is a beast"
STEC's Kronos BiTurbo PCIe SSA holds up to 3.9TB of MLC and, in SLC form, does 440,000 read IOPS, 400,000 write IOPS and boasts a 4GB/sec bandwidth. The Kronos Turbo on its own does 220,000 read IOPS, 200,000 write IOPS and shifts 2GB/sec. Fusion has that one whipped it seems, apart from the bandwidth number.
TMS' RamSan-70, based on 3Xnm Toshiba SLC NAND, does 330,000 read IOPS, 600,000 in burst mode, and 400,000 write IOPS to heave 2GB/sec. On the raw number basis Fusion has it beat as well. We note that a CSCS analysis had this TMS product way-outperform a first-generation ioDrive product from Fusion though.
Virident's SLC TachION delivers a claimed (see CSCS analysis above) 300,000 IOPS with a mixed read/write workload and a peak 1.4GB/sec bandwidth. Fusion appears to have it whipped too.
The verdict
The verdict is pretty clear. On headline raw numbers Fusion-io's ioDrive 2 products generally leave the competition in the dust, except for Micron, but the P320h is let down by poor write IOPS numbers.
Of course all these PCIe cards won't compete in a uniform PCIe market; it being split up into various sectors each with their own workload and price/performance characteristics.
Fusion is hoping that, with its wide spread of capacity points and performance levels, it can compete in as many of these sectors as possible, while focussing on mainstream pure enterprise business and not the flash web businesses. Its mainstream enterprise customers buy kit from Dell, HP and IBM and look for that level of reliability, performance, value and support.
Our first reaction is that, with this launch, Fusion-io has, in El Reg's opinion, cemented its position as the PCIe flash card leader.
All the products will ship in November. Prices start from $5,950. ®
Sponsored: Minds Mastering Machines - Call for papers now open