Cisco veep slags off HP's PC biz wobble
Predicts doom for rival in not-so-secret document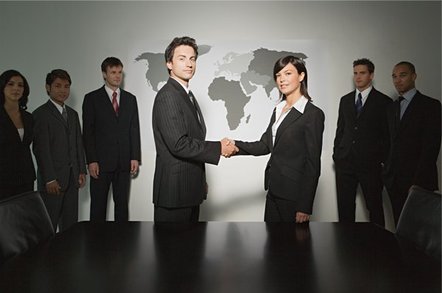 Cisco quietly sat on the sidelines during the summer as a series of gaffes by a hapless senior executive team forced down HP's share price by a fifth.
But the networking kingpin has found its voice again to predict that hitting the Personal Systems Group eject button will damage HP and its partners' bottom line and lead to price increases across other parts of the company's portfolio.
In a memo to the global sales force, leaked to US trade rag CRN, Rob Lloyd, Cisco exec veep for worldwide operations, said the strategy would downgrade purchasing power in memory and processors.
"We believe that the negative supply chain implications could generate 2-5 per cent margin loss, which HP would have to absorb in the form of lower gross profits, price increases passed on to customers or lower margins for channel partners."
He estimated that in a post-PSG world, HP's share of the worldwide x86 ASICS would plummet from 20 per cent to just one per cent, putting pressure on volume servers that depend on HP's PC purchasing power and weakening the vendor's hand against Dell.
Cisco - which lest we forget is working through its own proposals to sack thousands of workers - estimates that HP's PC biz generates up to $1bn in channel funding - promos, MDF and distie co-op funds.
This cash is used to cross-sell HP kit including networking, software and other more margin rich products and the removal of PSG would have serious implications for the vendor, particularly in the SME space, said Cisco.
"We expect HP's average channel face time [with the customer] to decrease by approximately 50%, average transaction size to decline by 35% and channel funding to decline, making it more difficult and expensive to reach and serve the channel partners," said Lloyd.
Spinning off PSG would unpick disgraced former CEO Mark Hurd's strategy of driving efficiencies of scale, crystallised by lower op-ex, ramped volumes and presence across multiple product markets.
Recently installed CEO Meg Whitman backs the strategy boiled up by predecessor Apotheker but will confirm the fate of PSG inside the next couple of months.
Cisco reckons HP is unlikely to do a U-turn and maintain the PC unit as margins continue to erode due to the burgeoning tablet market - which HP exited - and commoditisation.
Lloyd didn't stop at PSG though; he said HP "lacks scale" in software and business process services that underpinned IBM's strategy, and that buying Autonomy would not help as it was a BI platform.
"HP has 7% share in network management software, the only place in the software stack where it is a top five vendor," said Cisco.
And Lloyd couldn't wait to have a pop at the networking biz, claiming that HP used the brand, "me too" products and commodity pricing to push up sales. But getting out of commodity hardware areas like PCs raised question marks over networking, he claimed.
"The loss of purchasing power and the ability to price lower as part of a larger campus bundle will make it difficult for HP to continue its low-margin strategy and 'Almost Good Enough' messaging," said Cisco. ®
Sponsored: Minds Mastering Machines - Call for papers now open