Ultrabooks vs tablets: tablet demise greatly exaggerated
Makers spin skinny laptops as tablet killers. Wrong.
Punter activity
Asus' Eee Pad Transformer did very well when it hit the shops, but sales have fallen back somewhat since, we hear. Ditto RIM's BlackBerry PlayBook and a host of other tablets.
So while Apple's sales are steady, its rivals need regular launches to maintain sales volumes.
They're generally not doing so, though, and so are not having a generally happy experience in the tablet market.
Digitimes quotes unnamed "sources from PC players" - the very folk, in other words, not enjoying regular strong tablet sales, who spin the whole market downwards so that "although tablet PC shipments in 2011 are expected to reach 62.5m units, with Apple reportedly to cut its iPad 2 orders, while HP and RIM had both suffered from unsatisfactory tablet PC sales, indications are that tablet PC shipment growth is already slowing down".
Actually, there's no sign of that at all.
Claims that Apple has cut iPad production orders for Q4 have not been verified and, in any case, are just as plausibly an attempt to prevent over-supply in the run-up to Q1 2012's iPad 3 launch as a sign that fondleslab fever is abating.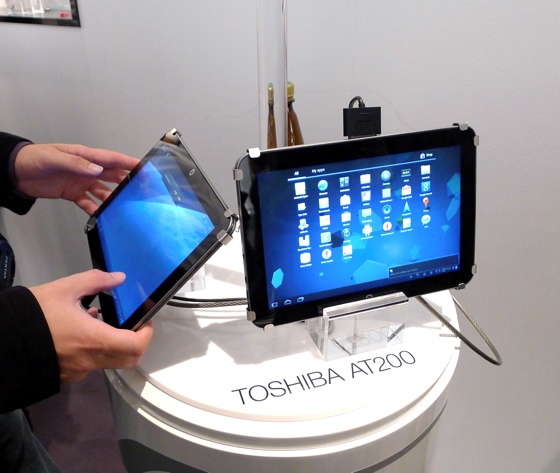 Toshiba's AT200 tablet. Tosh seems happy doing tablets and Ultrabooks, announcing one of each at IFA
Equally, Apple may have lowered Q4 production after having boosted output in Q3, something it has previously claimed to be contemplating. For Apple, Holiday sales are key, and it will be paving the way for them in Q3, not Q4.
HP and RIM both released product that was behind the technology or design curve. But other makes have caught up quickly, most notably Samsung, with its very nice Galaxy Tab 7.7, 8.9 and 10.1. Which is probably why it's getting so much attention from Apple Legal.
Now, Apple may well fail and Samsung may get its new Galaxy Tabs out, only to find that punters have indeed grown weary of tablets. They may indeed favour Ultrabooks instead.
Demand for skinny laptops does not inherently mean demand for tablets will fall. People generally buy tablets not as laptop replacements. Yes, a tablet purchase may mean a delayed laptop purchase, but not that no notebook will be bought at all.
So just because an Ultrabook supplier with a poor track record in tablets tells you otherwise, there's no need to take its words at face value. ®
Sponsored: Minds Mastering Machines - Call for papers now open