Dual core? Needs more
There's a 2.10GHz two-core Core i3-2310M processor on board, and while this isn't the most ferocious number-cruncher on the planet it'll certainly see you through day-to-day tasks. Part of the reason the 5830T feels so capable is that it's well loaded with memory: 6GB of DDR 3.
PCMark 7

Longer bars are better
PCMark Vantage

Longer bars are better
3DMark 06
Longer bars are better
All this adds up to a machine that, while not the last word in computational grunt, won't struggle playing back HD content, for instance. It chuntered through to a final mid-table score of 4817 in PCMark Vantage.
The only time the 5830T looked less able was during a bout of 3DMark 06 testing. The integrated Intel HD Graphics 3000 chip might be able to borrow up to 1760MB of system RAM, but it fairly groaned through our tests to a final score of 1581.
PCMark Vantage Battery Life

Battery life in minutes
Longer bars are better
Flip the machine over and the spring-loaded catches you'd expect to find holding in the battery are conspicuous by their absence: that's right, Acer has opted to build the battery into the case. Not only that, but the removable panel with a battery icon on it doesn't actually cover the battery. Getting access involves removing the entire underside - a huge palaver.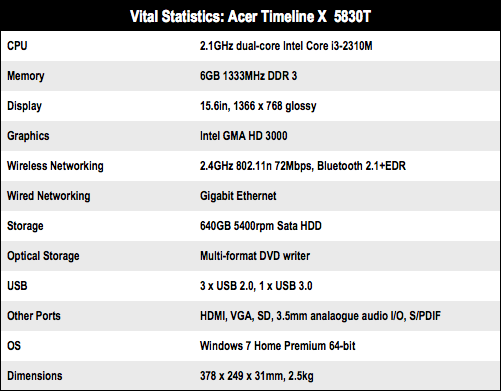 COMMENTS
Perhaps because he's reviewing the machine
rather than pandering to Linux obsessives.
I just can't get used to the trackpad being off set all the way to the left on these Acer laptops, it feels very lopsided
>Am I missing something? £600 for a middling Core i3 laptop
Yes. You're missing £100
:D
Why should they? I thought Linux was supposed to be a mainstream OS these days. Are you suggesting that there are still questions over whether it will work on machine 'X'?
Good Lord.
Are you suggesting it wouldn't work out of the box?
You mean all this Ubuntu userfriendliness is a lie?! Heretic!!