iPhone 5 to support 21Mb/s HSPA+ not LTE
Chinese telco outs handset's data spec
A China Unicom executive has let slip that the iPhone 5 - or, at least, the 2011 edition of the Apple handset - will support HSPA+ 3G technology with download speeds of up to 21Mb/s.
That would seem to scupper the hopes of fanboys hoping their next handset will support LTE '4G' technology.
At the Macworld Asia show, the Chinese telco's representative flashed up a slide showing the evolution of the iPhone as a data device. Said foil shows the speed, though the fellow hasn't included a snap of the handset.
Japanese-language site PCWatch was on hand to take a snap of the slide: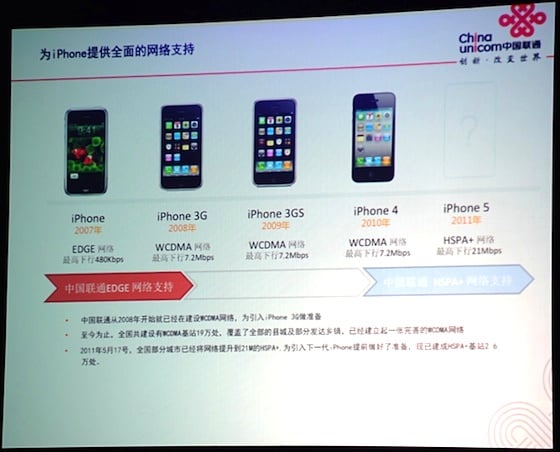 Source: PCWatch
China Unicom is Apple's exclusive iPhone partner in that country. ®
COMMENTS
LTE handset is pointless for Apple for other reasons
LTE == IMS. You cannot do voice without it as VOLGA is now effectively dead.
IMS == in-application per-session operator driven charging model.
Apple has succeeded in wrestling away financial control from operators. It now owns the charging model and it is per-app and not per session and the operator sees nothing of that (and nothing of the cash changing hands).
Why on earth do you expect it to surrender it voluntarily? They do not strike me as stupid.
It will stick with HSPA++++ for as long as it can and even longer because this is what matches its financial strategy. I really do not see it doing LTE any time soon. Even if it does it, that will be for data only and it will be with 3G as well so it can have legacy circuit switched voice and avoid doing an IMS stack (3G has better voice channel efficiency than GSM for most use cases).
Is it even available in china?
I don't believe LTE is even available there, so releasing a LTE handset there would be pointless (very much like the UK) This doesn't mean the US market won't get an LTE version.
Think about LG and Samsung LTE patents
Jobs is currently putting the boot to Samsung - and having seen their products being SOLD at retail you know why - and undoubtedly Samsung is ready to return the compliment.
LG and Samsung might be competitors but they are also flag waivers so, together, they can put the screws to the fruit factory as far as LTE goes.
great another hi-tech tramnsmission protocol that's never to be fully utilised except three blocks away from 1 or 2 telco's in the world.
In my country 3G isn't even fully deployed in 2011. There are areas where data transmission is only EDGE which is dog slow (yet every jackshit telco in here is bragging how good 'their' network is).
Their a all a bunch of lairs and thieves. I'm NOT interested! I'm NOT going to buy any new toy unless those morons keep their promises and FULLY deploy proper 3G with at least 3Mbps downstream!
We should boycot them all!
You'd hope that in 2011 we'd be able to agree on a worldwide standard...