iLuv shows desktop-style iPad dock
Make your tablet look like an old PC
We've seen tablet cases that make a fondleslab operate as a laptop screen, but you'll soon be able to go for that desktop look too.
Accessory maker iLuv is working on the WorkStation series, a set of docks for Apple iPads and Samsung Galaxy Tabs that incorporate a speaker unit and a wired keyboard.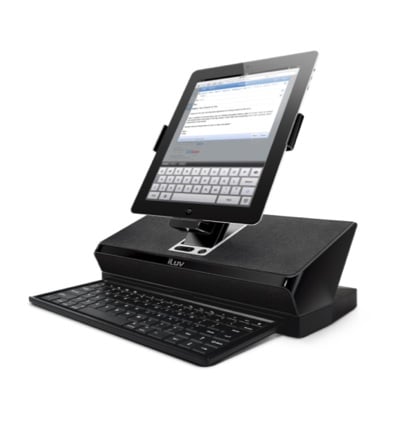 OK, so it lacks a hard drive, serial ports and a floppy disk, but you could be forgiven for thinking the tablet has morphed into an old-style PC, complete with tiny monitor.
This is the iMM737 WorkStation - iLuv will also offer the iMM517, which is the same thing but with a Bluetooth keyboard rather than a wireless one. The iMM737 will go on sale in November, the 517 sooner. UK prices are TBC. ®
COMMENTS
What would Steve say...?
I'm sorry but that looks horrific. Is that a concertinaed (had to Google that for spelling and still doesn't look right) smartcover underneath it or just over complicated and ugly design?
It looks like it's the unfortunate result of a GCSE 'Design and Technology' coursework that was cobbled together on deadline day!
D minus