Multi-room ready
Take a Play:3 apart - impossible to do but use your imagination - and you will find a tweeter and two 3in mid-range drivers firing forward, and a passive bass radiator at the back. Each driver is individually powered by a dedicated Class-D amplifier.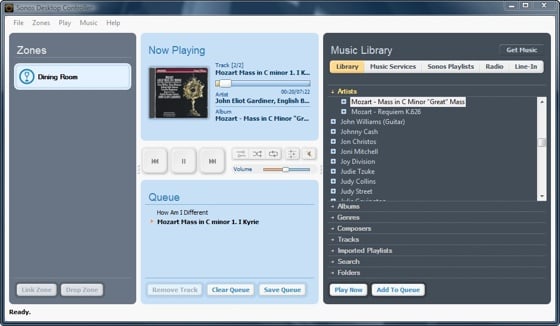 No phone? Then run everything from your PC
How does it sound? Rather good. In fact, for something so diminutive, extremely good. There's plenty of volume on tap - Sonos is keeping mum about actual power outputs - and what comes out is detailed, solid and very composed, even at maximum volume.
Compared to my now discontinued Squeezebox Boom, the Play:3 is sonically superior in every way. The only vaguely similar device I've heard that offers more to the ears is the Arcam rCube dock which will set you back a further £200.
It's worth mentioning that in over a week with the Play:3 I didn't experience a single hiccup, pause or drop-out in my listening. Everything just worked, reliably.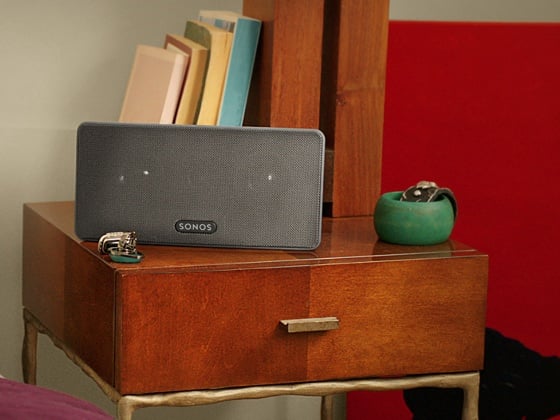 Well designed for any room in the house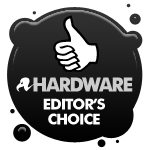 If one speaker isn't enough, you can add a second Play:3 to a room and set them up to work as a stereo pair. This being a Sonos system, speaker units and wireless bridges can continue to be added until you run out of money or rooms.
Verdict
Sonos has at last built a wireless music box for the less well-off - and built a rather good one too. The Play:3 is physically small enough to be easily sited in any lounge, office or bedroom but produces a big enough sound to act as a primary stereo. The facility to pair units up as stereo speakers and use your smartphone as a remote is the icing on the cake. ®
More Network Music Kit Reviews

Cambridge Audio
Sonata NP30
Logitech
Squeezebox
Touch
Audio Pro
WF100
Pure
Sirocco
550
Ten…
wireless
speakers

Sonos Play:3 network music player
The best wireless music starter unit on the market and, by Sonos standards, very good value.
COMMENTS
How about a REAL budget network audio player?
Ever since Logitech discontinued the Squeezebox Classic (and Roku its SoundBridge), I feel there has been a definite "hole in the market" when it comes to a sub-£150 multi-format network audio player.
I stress the word "audio" here - there are tons of network media players in the £50-£150 range, but they're really intended for plugging into your TV. I would be interested in a network *audio* player, which can hook up to both our home LAN (wired or wireless) and my hifi amplifier/speakers, so I can stream tracks from our Synology NAS box and play them via a decent sound system.
If you know of such a box under £150 (and pref. under £100), I'd be very grateful to hear about it. Failing that, perhaps it's off to eBay to look for an old Squeezebox Classic, or a USB DAC to turn our Synology into a network audio player...
Mama's got Squeezebox
With Slim Devices (let's not say the L. word) I think the defunct Boom (love mine) and the Radio http://www.amazon.co.uk/Logitech-Squeezebox-Radio-Internet-streaming/dp/B002N2YZYU represent much better value for money, without any propriety nonsense - you get wireless out of the box no £40 addon.
Also, the latest versions of SqueezeNetwork server software allows you to split the stereo in a similar way as the Sonos, so it's cheaper to have have two SB Radios to act as a stereo pair and still have £60 left for pies and chips.
touch
I use a squeezebox touch, a bit over the £150, but superb. I run the server on my synology NAS, visit their website to download it.
SqueezeBox Radio
SqueezeBox receiver is still available from several sources for about £90. I've got 3 as part of a multiroom setup (separate Amps and speakers). All controlled from Phone(s).
And then there is the SqueezeBox Radio for £100. Excellent sounding mono all-in-one network player, can now be paired for stereo, and even battery powered (£30 extra for battery pack).
Contrary to the impression given by a lot of commentators and reviewers, all SqueezeBoxes can be network controlled and used as part of a multi-room system. You just need your PC or NAS box to provide the central server, and control it all from your smart phone (good 3rd party apps for iOS, Android, WP7 and Symbian), PC or any player with display/controls.
Play:3 versus Play:5
I had a brief back-to-back listen to both the Sonos Play:3 and Play:5 in a Tottenham Court electronics emporium a few weeks back.
I wasn't too impressed with the Play:3, but the Play:5 sounded significantly better. If you've got the space and budget (and it's not that much more expensive) then I'd recommended going for the bigger brother.