Sonos Play:3 network music player
The best starter streamer bar none?
Review Sonos wireless music systems have always been deeply desirable but they have also always been rather expensive. Now Sonos has released a one-box player aimed at those of us who don't own our own Caribbean island.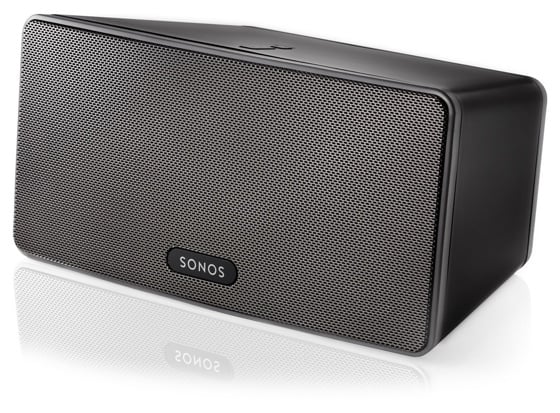 Boom box
To be honest, the £259 asking price doesn't get you a wireless music system, it gets you one that has to be wired to a router. To make it wireless, you also need a £40 Sonos Bridge which, when hooked up to your router with an Ethernet cable, communicates with the Play:3 over a bespoke AES-encrypted 2.4GHz peer-to-peer wireless mesh network
Installation is a simple matter of plugging everything in and running the supplied Windows or Mac desktop controller software - Linux users should be able to install the Windows software under Wine - and pushing some connect buttons when asked.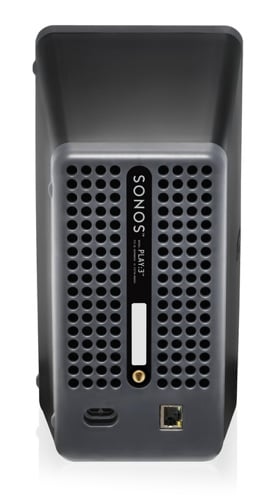 The only ports it needs, apparently
The Sonos software then scans your music library - it chewed through the 8000 tracks on my laptop in less than ten minutes - and once it's done you are good to go.
The software made a good fist of my rather idiosyncratic iTunes library. It imported my playlists and recognised my gapless albums as such. On the codec front, Sonos supports MP3, WMA, AAC, Ogg Vorbis, Audible, Apple Lossless, Flac, WAV and AIFF files.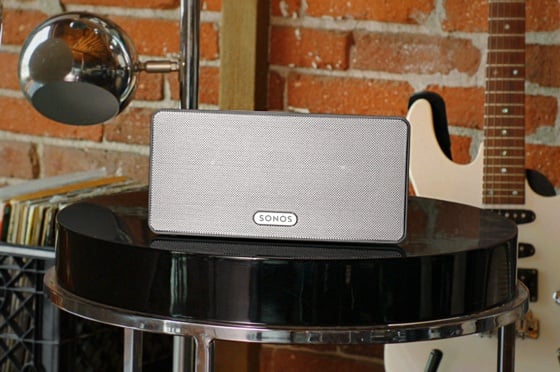 Not a shouty design
Of course, you aren't restricted to files stored on a hard drive. You can also access music from several streaming services, including Spotify, Last.fm and Napster, as well as any MP3 or WMA-based internet radio station.
COMMENTS
How about a REAL budget network audio player?
Ever since Logitech discontinued the Squeezebox Classic (and Roku its SoundBridge), I feel there has been a definite "hole in the market" when it comes to a sub-£150 multi-format network audio player.
I stress the word "audio" here - there are tons of network media players in the £50-£150 range, but they're really intended for plugging into your TV. I would be interested in a network *audio* player, which can hook up to both our home LAN (wired or wireless) and my hifi amplifier/speakers, so I can stream tracks from our Synology NAS box and play them via a decent sound system.
If you know of such a box under £150 (and pref. under £100), I'd be very grateful to hear about it. Failing that, perhaps it's off to eBay to look for an old Squeezebox Classic, or a USB DAC to turn our Synology into a network audio player...
Mama's got Squeezebox
With Slim Devices (let's not say the L. word) I think the defunct Boom (love mine) and the Radio http://www.amazon.co.uk/Logitech-Squeezebox-Radio-Internet-streaming/dp/B002N2YZYU represent much better value for money, without any propriety nonsense - you get wireless out of the box no £40 addon.
Also, the latest versions of SqueezeNetwork server software allows you to split the stereo in a similar way as the Sonos, so it's cheaper to have have two SB Radios to act as a stereo pair and still have £60 left for pies and chips.
touch
I use a squeezebox touch, a bit over the £150, but superb. I run the server on my synology NAS, visit their website to download it.
SqueezeBox Radio
SqueezeBox receiver is still available from several sources for about £90. I've got 3 as part of a multiroom setup (separate Amps and speakers). All controlled from Phone(s).
And then there is the SqueezeBox Radio for £100. Excellent sounding mono all-in-one network player, can now be paired for stereo, and even battery powered (£30 extra for battery pack).
Contrary to the impression given by a lot of commentators and reviewers, all SqueezeBoxes can be network controlled and used as part of a multi-room system. You just need your PC or NAS box to provide the central server, and control it all from your smart phone (good 3rd party apps for iOS, Android, WP7 and Symbian), PC or any player with display/controls.
Play:3 versus Play:5
I had a brief back-to-back listen to both the Sonos Play:3 and Play:5 in a Tottenham Court electronics emporium a few weeks back.
I wasn't too impressed with the Play:3, but the Play:5 sounded significantly better. If you've got the space and budget (and it's not that much more expensive) then I'd recommended going for the bigger brother.