Oracle rises for Unix server push
SPARC T4 systems: Same skins, new brains
Same rack and blade skins, new T4 brains
Oracle has announced four new servers (three rack and one blade - no tower as usual) with the launch of the SPARC T4 processor, and they bear some resemblance to the SPARC T3 systems that came out a year ago. They have perfectly obvious and sensible names, as did the SPARC T3 systems, for which Oracle should be commended.
The SPARC T4-1 is a 2U rack server that can have a single SPARC T4 chip, in this case running at 2.85GHz with all eight cores fired up.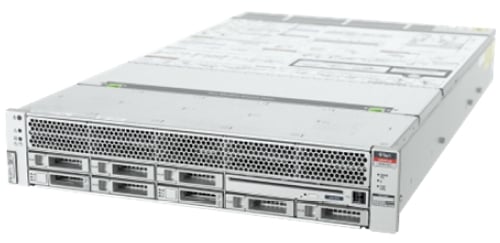 The SPARC T4-1 rack server
This machine has 16 memory slots and supports 4GB, 8GB, or 16GB DDR3 memory sticks, for a maximum capacity of 256GB. That's as much memory as IBM is supporting in its two-socket Power 730 and Power 740 servers and double that supported on its single-socket Power 710 and 720 machines, by comparison.
Of course, IBM is not yet officially supporting 16GB DDR3 memory sticks, which is why it is showing half the memory capacity per socket as the SPARC T4 systems. This will no doubt change when the Power7+ processors are launched in October or November of this year.
The SPARC T4-1 comes with four Gigabit Ethernet ports and you need to add expansion cards to hook 10GE ports onto those two integrated 10GE controllers on the SPARC T4 chip. It has six PCI-Express 2.0 peripheral slots, but the spec sheet doesn't say what they are (probably two x4s and four x8s). The server has room for one slimline DVD drive and eight disk or solid state drives in a 2.5-inch form factor. Oracle is supporting 300GB and 600 SAS or 100GB and 300GB SSD drives in the machine.
The SPARC T4-2 is a two-socket server that comes in a 3U rack chassis. This machine also has a SPARC T4 chip running at 2.85GHz and can cram 128 threads in a single system image.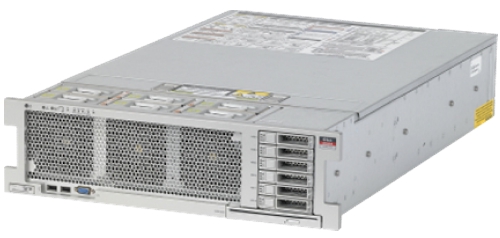 The SPARC T4-2 rack server
The two-socket SPARC T4 machine has double the memory slots to match the doubled up processor sockets, yielding a maximum main memory of 512GB using the 16GB DDR3 memory sticks. Skinnier, and cheaper, 4GB and 8GB memory is also available on the SPARC T4-2.
Because of the extra airflow needed to cool the SPARC T4-2 server (it is cramming twice the memory and processors in only 50 per cent more space), this machine only has room for six 2.5-inch drives, which run down the right side of the box, leaving most of the front open to suck in air to cool the system.
The machine has four Gigabit Ethernet ports on the system board, and you can add four 10GE ports (two per processor) to the system through adapter cards that hook back into the processors. This machine has a total of ten PCI-Express 2.0 slots (two x4 and eight x8). There's a slim DVD in the system as well.
The largest of the new SPARC T4 servers – and the one that is used in the SuperCluster configuration – is the SPARC T4-4, which is, as the name suggests, a four-socket machine. This one is getting the slightly peppier 3GHz SPARC T4 chips, and using them, Oracle can put 256 threads and up to 1TB of main memory into a single system image.
As you can see from the chassis design, it is really two SPARC T4 motherboards glue together into a single image: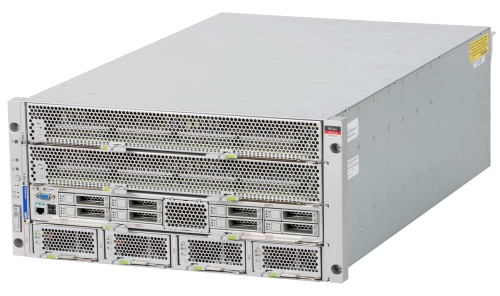 The SPARC T4-4 rack server
The SPARC T4-4 comes in a 5U rack chassis that has four Gigabit Ethernet ports on the motherboard. Interestingly, only two of the eight on-chip 10GE ports can be accessed by adding adapter cards to the system board. The chassis has room for eight disk or solid state drives and has a total of sixteen x8 peripheral slots running at the PCI-Express 2.0 speed.
That leaves the blade server for the Sun Blade 6000 chassis, which is called the SPARC T4-1B, obviously.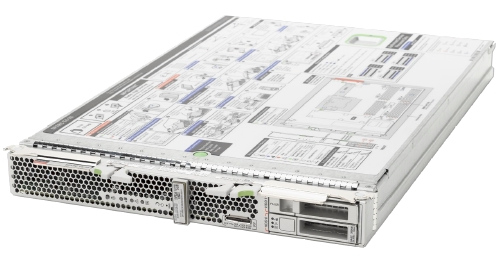 The SPARC T4-1B blade server
This blade server has a single socket and uses the slightly slower 2.85GHz SPARC T4 chip. It sports sixteen memory slots, for a total of 256GB of memory if you pay for the pricey and chubby 16GB sticks. The blade has two on-board Gigabit Ethernet ports and can have two of those 10GE adapters to access the on-chip networking, just like the other SPARC T4 machines. The blade has room for two small form factor disks, and you are restricted to 300GB or 600GB SAS drives or 100GB SATA SSDs.
You need Solaris 10 at the 8/11 update level or Solaris 11 to use these four SPARC T4 servers; you need the Oracle VM Server for SPARC 2.1 hypervisor if you want to virtualize the machine. (You can do granularity as fine as one VM per thread in the machines.)
The SPARC T4 systems are available now, with prices ranging from an entry SPARC-1 at $16,000 with Solaris and the Oracle VM for SPARC hypervisor (also known as Logical Domains or LDoms) included all the way up to a SPARC T4-4 with 1TB of memory that runs $160,000. ®
Sponsored: Minds Mastering Machines - Call for papers now open