David Caminer, creator of the first business computer
We salute the architect of LEO
The IBM that might have been
In 1953, Lyons became the first company in the world with a computerised payroll, and soon LEO was in charge of the accounting and stock control of all the company's 180 teashops. The business computer had arrived.
Three years later - and a good 30 years before the word passed into the English language - Lyons began outsourcing LEO's payroll facility to Ford UK. Other clients, including the Met Office, followed, and the facility was spun off to a subsidiary, Leo Computers Ltd, powered by a new version of the machine, the LEO II.
In Caminer's words, the new company was "a high-powered consultancy and software house as well as a computer production line and a service bureau". With the arrival of the LEO III, which replaced valves with germanium transistors, and mercury delay lines with ferrite core memory, Lyons now had a much faster, cooler and more reliable machine that backed its data up onto magnetic tape. It could multi-task.
It became clear that Leo Computers had outgrown its parent - this new game of computers was too rich even for Lyons' deep pockets. With the merger of Leo Computers into English Electric and Marconi to form EELM - a company eventually to snowball towards the end of the 1960s into ICL - the LEO III became, as Caminer describes it, "a world-beating machine". By all accounts it was indeed a direct competitor to the mighty IBM's own 360, introduced in 1964.
But that was the problem. Without the marketing resources of the American giant, relying solely on word of mouth, LEO failed to gain market traction. The IBM 360 became the industry standard, eventually adopted by EELM as a clone called System 4. The era of LEO had come to a close. ®
The Lyons Empire
Founded in 1887 by Joseph Nathaniel Lyons, the company had burgeoned from its original roots in tobacco to a Hydra-headed, market dominant conglomerate. Its food manufacturing arm was famous for its ice cream, but was also a household name for bread, cakes, pies and beverages.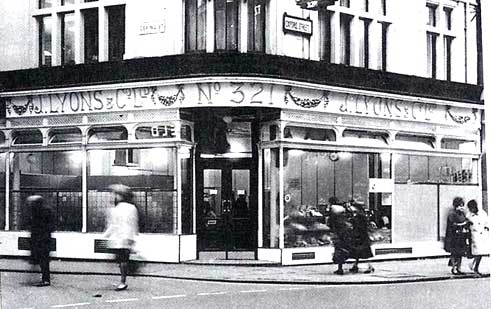 Source: the J Lyons history website
Its Strand Hotels subsidiary ran more than half a dozen London hotels. More famous still was its nationwide chain of tea shops, with flagship "Lyons Corner Houses" in London's West End: multi-storey meet-and-eat venues, each with its own continuously playing orchestra, the musicians managed by Lyons' own Orchestral Department.
As well as its food factories, tea shops, restaurants and hotels, during World War II Lyons had even extended its logistical expertise into running munitions plants. One of the largest catering and food manufacturing companies in the world, its subsidiaries extended across the Commonwealth.
Sponsored: Minds Mastering Machines - Call for papers now open