David Caminer, creator of the first business computer
We salute the architect of LEO
Made in Britain
The Lyons managers returned to the UK with one useful piece of information. The Americans had pointed them towards a group at Cambridge University engaged in building their own computer. The name EDSAC (Electronic Delay Storage Automatic Calculator) was the clue to its key difference from ENIAC - it was the first practical computer with a means of storing programs. To do this, it used an array of "delay lines" that retained data as constantly refreshed ripple patterns in troughs of mercury.
Here's an EDSAC simulator showing it in action.
EDSAC was still a work in progress when the Lyons team went to Cambridge to assess its possibilities. They were sufficiently impressed to hand over £3000 - nearly £100,000 in today's money - to speed up the project.
Renamed LEO (Lyons Electronic Office), the version specially built in-house under the lead of a young engineer called John Pinkerton ran its first test programs on 6 May 1949.
But calculating a table of squares and a list of prime numbers wasn't going to make much of a dent in Lyons' labour shortage problems. Caminer's job was getting it to do something useful.
A programming language, even at assembly level, would have been a help. LEO came with no such luxury. But it took Caminer's team only two years to tame the beast, and in November 1951 it was proudly running "The Bakery Valuations Job" to track and cost the labour and material of cakes, biscuits and bread moving through Lyons various profit centres.
LEO had begun earning its crust.
The World First Business Computer
In Caminer's own words: "It was a system with three input channels and two output channels all working concurrently with the computer's calculating operations. Magnetic tape had been put aside for the time being and the input transports were punched card readers and electronically sensed paper tape readers.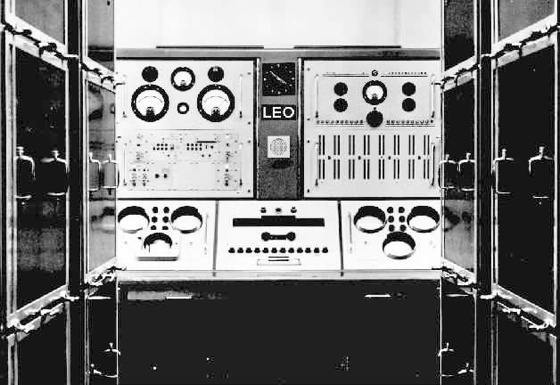 Source: Leo Computer Society
"The output was to a line printer and a card punch. Data were read into buffer stores so as to be ready immediately they were wanted by the calculating unit in the main frame. Similarly, results were flashed out to the output buffers ready for printing or punching.
"It was all like a three ring circus, except that there were many more than three things happening at once."
Caminer's address to The Guildhall conference for business leaders, November 2001
Sponsored: Minds Mastering Machines - Call for papers now open