Sony Vaio SB 13.3in notebook
Handy dandy
Fan-boy
Flicking the switch across to Stamina mode and opting for 50 per cent screen brightness and no active applications produced a much more reassuring time of 7 hours 56 minutes, suggesting that the battery nestled under the keyboard is actually more capable than the first impression suggested.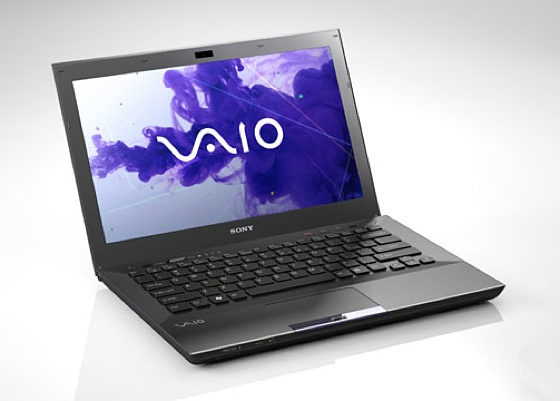 Stylish looks, but not OTT
The word 'nestled' really is appropriate, as the SB is the latest in a string of laptops with a battery that can't be detached simply by unlatching a few spring-loaded catches. You need to remove a plastic panel on the underside instead. It's not terribly onerous - there are only two screws and no muscle involved. Those who want more battery life without digging in their laptop's innards can buy an external battery that clips to the bottom of the chassis for £100.
The SB is pretty well covered for ports: a single USB 3.0 joins a pair of 2.0 ports, while the HDMI and VGA ports cover pretty much all output eventualities. Two separate slots cater for SD and Memory Stick cards. There's no mic jack, so you can only connect a pair of headphones.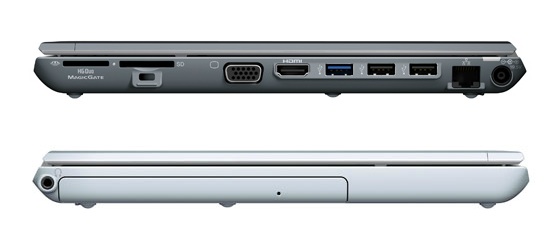 There is a good array of ports on the SB's thick sides
My review model came with a multi-format DVD writer, although in return for a somewhat steep £350 you can specify a Blu-ray drive. Sony has followed Apple's lead on the method for ejecting the drive, using a button above the keyboard. It's non-standard but works well, and the drive will pop open whenever you press the button, even if Windows hasn't started booting.
You can spec in a 3G modem for £100, and there are a range of SSD and HDD storage options on offer. Pick the SKU that's right for you.
Verdict
The Sony SB series is an interesting system. It's heavier and chunkier than the 13.3in MacBook Air, but cheaper. It's lighter than the 13.3in MacBook Pro - 1.6kg to 2.0kg - and has more than either Apple. As a handy, portable machine that will take almost anything you can throw at it it's ideal. It's just a shame it's so darn noisy. ®
More Notebook Reviews

Apple
MacBook
Air 13
Dell
XPS 15z
HP
Pavilion
dv7
Acer
Aspire
5755G
Toshiba
Satellite
P775
Sponsored: Minds Mastering Machines - Call for papers now open

Sony Vaio SB 13.3in notebook
Stylish 13.3in notebook with Intel Core i5 chippery and lots of pre-loaded software.