Microsoft moots mobiles with interchangeable accessories
One for all
Microsoft's R&D department has drawn up plans for a slider phone with swappable accessories, a concept previously attempted elsewhere that failed to become a success commercially.
The handset in question looks like a regular slider phone, but features detachable parts such as a gaming keypads, second displays and extra batteries.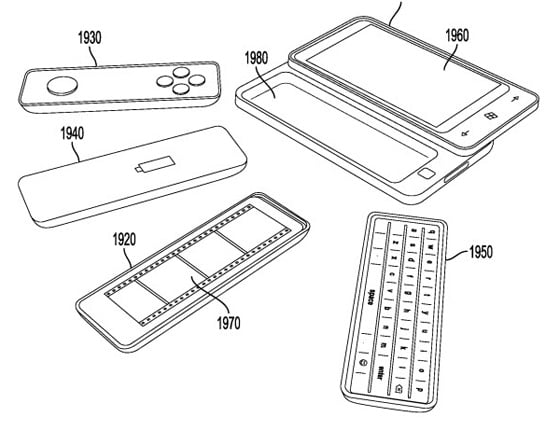 The plot thickens: these accessories can still be used when not attached to the phone, doubling up as additional control devices for the handset. This includes using the attachments as an extended headset, as a keyboard for use while the phone is connected to a TV set, and as a handsfree control kit for manipulating the handset in vehicles.
Others have tried - and generally failed - to bring similar concepts to market successfully. These include the LG Expo with attachable projector, NTT Docomo's separable phone and the Modu jacket phone.
Microsoft is hardly known for it mobile handset manufacturing and with other companies failing to make similar products a hit, the chances for this one are pretty unlikely for now. The company clearly sees the potential, though, hence the push for a patent. We won't hold our breath. ®
COMMENTS
Original
and not obvious to an expert in the field... I think not.
bah
this idea has been floating around in various forms...
Microsoft should not be given a patent for it.
Secondly, I suspect their much empowered legal department is probably behind this, so they can patent troll later.
There are many useful applications for this, and with increasing miniaturization, they will become successful, because users don't have to suffer from increased size in return.
I hope somebody steps up against this ridiculous patent.
Next thing, someone comes up with a patent on certain ways to arrange your bathroom cabinet :P
Twice as fat as it needs to be?
But is it, though?
I have an HTC Touch Pro 2, which is the sort of form-factor suggested here, and its fat-but-curved shape sits in the palm of my hand quite nice and comfortably.
By contrast, when I hold my HTC Sensation, there is a big gab between the back of it and my palm, which might as well be filled with phone.
I actually find the iPhone 4, with its angular top and bottom edge, rather unpleasant to hold, whereas the curvy iPhone 3G is comfortable.
I really don't get this obsession with smartphone thinness.
"Not sure how MS will use this though."
Nokia?
This could take off if they can find a way to make the sliding panel itself optional. As much as I'd occasionally like a full QWERTY keyboard or an double-capacity battery on the phone, having a mobile that's twice as fat as it needs to be the rest of the time is a deal breaker. If they can solve that they're onto a winner, if not I'll continue to use bluetooth keyboards and detachable battery packs for those rare occasions.