F1 2011
Lap it up
Monocoque up
Happily, if you're limited to using a pad, you shouldn't feel short-changed either, with cockpit controls and functions all nicely mapped to the analogue stick and buttons. However, as with all the best racing sims, it responds best with a wheel and using my Driving Force GT attached to my trusty ironing board - don't knock it until you've tried it - didn't disappoint. Opening out the throttle, hitting apexes and clipping kerbs all met with a satisfying amount of feedback. That the car gradually comes to life as tyre and break temperature hit optimal levels is particularly impressive.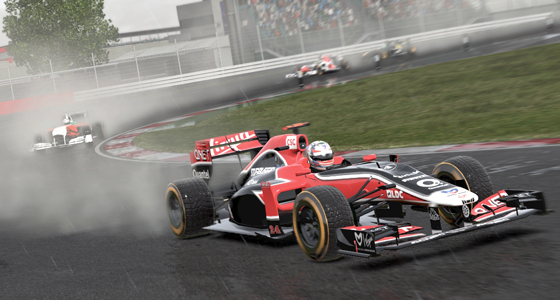 Steaming round the corner
The AI helps create a more convincing experience too, no longer set on seemingly preordained paths which they inexorably tread whether you happen to be in the way or not. Instead, your competitors will keep in touch with you and bide their time before making a move. Your engineer's messages make for more of a spectacle too, keeping you apprised of your relative position on the track.
F1 2011 is visually superior too, with sharper textures, colours truer to life and a heightened level of detail throughout. Where there's a marked difference is in the weather effects, inclement weather making for some picturesque scenes as rain slicks the tracks and renders the car in front a ghostly mirage. The sound too has been beefed up, engine noises now much more accurate to real life.
Changes have been wrung in the online multiplayer stakes too, the online lobby system helping organise players and the chance for 16 players - and eight AI drivers - to go at it proving quite the spectacle.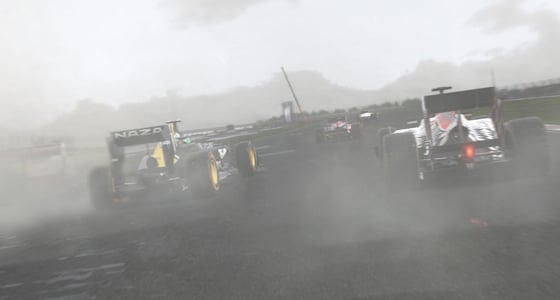 Mist the finish line
There's even a local split-screen mode on offer if you'd rather keep the game in-house and go for the Constructor's Championship with a friend.
Verdict
Fans of the original Codemasters F1 were crying out for perhaps three things: a more involved driving simulation, better AI and the implementation of this year's FIA rulebook. That's exactly what the developer has delivered, even seeing fit to throw in more robust multiplayer, improvements to the visuals and the introduction of the safety car.
The fact that this is a painstakingly accurate F1 sim does, of course, mean it won't appeal to everyone but, put the time in, and prepare to be rewarded. ®
More Games Reviews

Gears of War 3
Resistance 3
Dead
Island
Driver:
San Francisco
Bodycount
Sponsored: Minds Mastering Machines - Call for papers now open

F1 2011
The roar of the engine, the squeal of brakes and ragged edge driving; in fact all that's missing are the grid girls. Available on PS3 (tested), Xbox 360 and PC.