Orange Barcelona Android Qwerty phone
City slicker?
Solid rather than snazzy
With a Qualcomm MSM7225 chip running at 600MHz and 256MB of Ram, performance is brisk rather than fast but it is still a handset I could live with on a day-to-day basis. The lack of absolute grunt only shows up when playing videos or graphically intense games, but who buys a phone with a 2.6in screen to do that?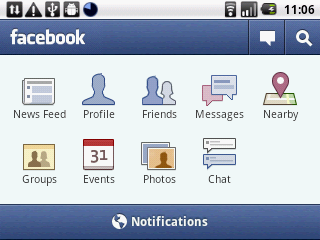 Apps look fine on the landscape 320 x 240 screen
Connectivity is on the money with 802.11n Wi-Fi, Bluetooth 2.1, GPS, a Micro SD card slot good for 32GB cards - at the time of writing, Argos is offering a free 8GB card in place of the standard retail pack's 2GB - Micro USB charging and a 3.5mm audio jack.
On a smaller screen, Orange's bespoke launcher is less of an eyesore than it is on the Monte Carlo so there is less reason to swap it out and lose the Gestures feature which lets you launch apps by drawing a pattern on the screen.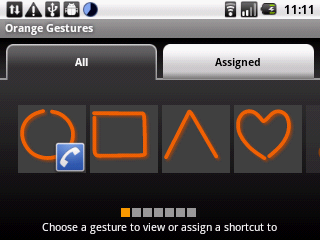 Gestures are useful on a small screen
The Barcelona does, however, come laden down with all the usual fixed Orange apps, including the entirely redundant Orange Maps and Mail, and a store to shill ringtones. This means you only have 130MB left in the system storage for Market apps.
Again like the Monte Carlo, but this time in a good way, the Barca comes with Orange's Signal Boost UMA system which enables cellular operation over Wi-Fi and HD Voice Adaptive Multi-Rate Wideband speech encoding. HD Voice aside the Barcelona makes a more than decent little voice phone.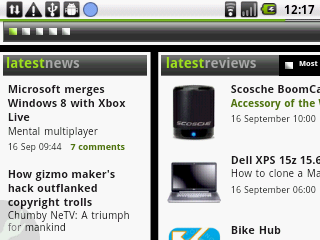 The browser reflows text and supports pinch-to-zoom
The camera, on the other hand, is very basic, with a resolution of just 3.2Mp, no flash and no auto-focus. Snaps will suffice for mobile uploads to Facebook and Twitter but not a lot else. Video can be shot at a maximum of 352 x 288 at 20fps.
With so little screen real estate to illuminate, I expected better from the 1200mAh battery than the close to two days I actually got. It seems to be a feature of budget Chinese handsets that the batteries don't live up to their advertised ratings.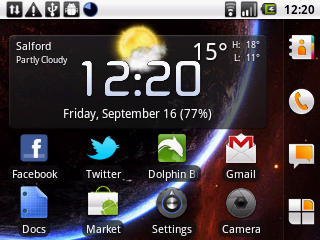 The Orange launcher doesn't look too bad here
As for the competition, Samsung's Galaxy Pro has a faster, 800MHz CPU and a bigger screen, though it costs more. Nokia's similar-looking C3 is cheaper but the 2.4in screen and Series 40 OS count against it, so the Barcelona wins by a nose.
Verdict
Does the Barcelona make a better buy than the identically priced San Francisco? The battery life is a little better it has a more up-to-date OS, but the San Fran has the bigger and better screen so it all comes down to how you prefer your keyboard: physical or virtual? If the former I can't see anyone being disappointed by the Barcelona at the price Orange is asking. ®
More Budget Phone Reviews

Orange
Monte
Carlo
Vodafone
Smart
HTC
Salsa
Nokia
C1-01
Motorola
Defy
Sponsored: Minds Mastering Machines - Call for papers now open

Orange Barcelona Android Qwerty phone
A competent little budget Android messenger phone that mixes the best features of Qwerty and touchscreen operation.
Price:
£99 + £10 airtime RRP