Red Hat swells sales and profits in fiscal Q2
So much Unix to eat, so little time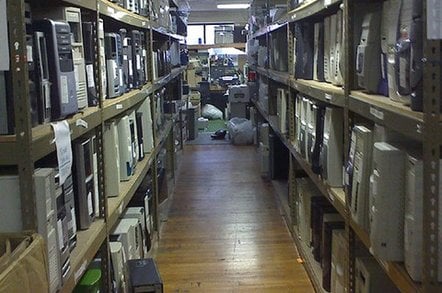 Commercial Linux distributor and virtualization and cloud computing player Red Hat just continues to grow organically like a batch of yeast. Or an open source collective from outer space (well, North Carolina anyway) that feasts on Unix servers.
In the second quarter of fiscal 2012 ended August 31, Red Hat's revenues embiggened by 28 per cent, to $281.3m, and net income exploded by 69 per cent, to $40m. Support subscription contracts for its Linux, middleware, and other software were up by 28 per cent to $238.3m and training and services revenues kept pace, hitting $43m. Deferred revenue rose by 25 per cent in Q2, to $813m, and the company is sitting on $937.2m in cash and equivalents. That makes Red Hat the biggest and strongest open source company in the world and perhaps the only one that will ever grow to this size because of the difficulty of competing with Red Hat.
In a conference call with Wall Street analysts going over the numbers, Jim Whitehurst, Red Hat's president and CEO, said that of the top 25 deals up for renewal in the quarter, all 25 renewed and that they renewed, in aggregate, at a rate of 150 per cent the value of the original values of the contracts at those companies that renewed. In general, these top 25 deals renew at 120 to 130 per cent of original value.
Charlie Peters, CFO at Red Hat, gave out stats on the top 30 deals (whether they were new or renewals) for the quarter, as the company has been doing for years. And for only the second time in the company's history, all 30 deals were worth at least $1m. Three of those deals actually exceeded $5m.
The Enterprise Linux distro drives the bulk of the company's sales still, but a dozen of those deals had a JBoss component and two of them were nothing but JBoss. And despite the difficulties in the financial services and government sectors, Peters said that these two industries were prominent in the top 30 deals – mainly because they are trying to cut costs and are ditching legacy systems.
With Oracle talking about a slight uptick in Sparc Unix system sales and IBM growing its Power Systems-AIX business quarter after quarter, you might be thinking that the Unix-to-Linux migration pace was slowing.
Whitehurst said on the call that whatever uptick that Oracle and IBM are seeing, Red Hat is seeing no change in the rate of migration from Unix to RHEL.
"We are in the take-share game, and we take share from Unix, we take share from free Linux, and we take share from Windows," said Whitehurst. As for the Unix opportunity, Whitehurst said that "we're nowhere near the end of this," despite what marketing reports you might read about the Unix market from researchers IDC and others.
"We're in the fourth inning, where the IDC reports show we're in the seventh inning," and that, said Whitehurst, is an assessment based on what the Red Hat sales force and channel is telling him. "You have whole markets like Korea that have hardly started on Linux," he added, and said that as far as Red Hat could tell, there were mountains of Unix still to be replaced at banking and telecommunications companies as well as government agencies – even those that had long since moved some of their workloads to Linux.
While Red Hat's commercialized KVM hypervisor, Enterprise Virtualization, has not contributed materially to revenues and profits yet, Whitehurst said that the company was gearing up to take on VMware and Microsoft in the data center with the RHEV 3.0 hypervisor that is in beta now and that will ship later this year. VMware's memory tax with its ESXi 5.0 hypervisor is compelling companies to look for an alternative to host Windows-based virtual machines, and the Linux enthusiasts within corporations are also giving RHEV 3.0 a serious look.
"We're having an exploding number of POCs," Whitehurst said, referring to proof of concepts, or probably more correctly, proofs of concept. "In fact, one of the biggest pushbacks I am getting from my sales force is resources for POCs for RHEV 3.0."
Looking ahead, Peters raised Red Hat's revenue guidance for the fiscal 2012 year by $45m, so it is now between $1.12bn and $1.13bn; non-GAAP earnings per share will be in the range of $1.03 and $1.05. For the third quarter, expect sales to be $288m to $290m, with non-GAAP EPS of 25 cents or 26 cents. ®
Sponsored: Minds Mastering Machines - Call for papers now open