Memo to open source moralists: Put a sock in it
Tech is amoral. Thank God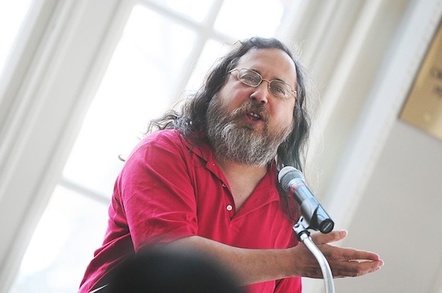 Open...and Shut Those who look to technology for their religious fix are going to be sorely disappointed, despite the fact that a recent article in The Economist highlights a range of priestly types who see Christian principles throughout the open-source software movement.
Perhaps.
The problem is that different people see these exact same principles in very different ways. Though we may want to paint our favorite technology trend in hues that fit our beliefs, the reality is that technology is essentially amoral, having no higher meaning than that which its users give it.
Just ask the spiritual founder of the free software movement, Richard Stallman.
Stallman generally zigs where others zag. So just when everyone is excited by Linux, Stallman pooh-poohs it as a non-free bastardization of his pristine GNU-Linux. And despite the euphoria around Android taking down the proprietary Apple iOS beast, Stallman is quick to denigrate Android as a proprietary "listening device" for the tragically non-free powers that be.
Android, open source messiah to some, is a closed-source pariah for Stallman.
This sort of dual-reading of software – and particularly open source – isn't unique to Stallman, of course. As The Economist notes, North Carolina pastor Don Parris argues that "proprietary software limits my ability to help my neighbor, one of the cornerstones of the Christian faith." As a devout Christian, I can see his point.
But I can't disagree with those that argue that Microsoft chairman Bill Gates has done more for the world's poor than Mother Theresa ever will. Yes, that evil, proprietary Windows software enriched the pocketbooks of millions of people, and the lives of hundreds of millions (perhaps billions?).
In other words, even if one prefers the ethos of open source software, it's hard to deny that the effects of proprietary software can be pretty darn "Christian", too.
Or take cloning. Religions are all over the map in terms of their support or condemnation for it. Ditto for stem cell research. Or, really, whatever technological or scientific trend you like. There are ways to spin them to fit whatever you happen to believe.
All of which is ample reason to take any jockeying to claim the moral high ground in technology with a massive salt mine. Open source is not Christian or atheistic. Technology is amoral and indifferent to religion; the people who use it need not be. ®
Matt Asay is senior vice president of business development at Strobe, a startup that offers an open source framework for building mobile apps. He was formerly chief operating officer of Ubuntu commercial operation Canonical. With more than a decade spent in open source, Asay served as Alfresco's general manager for the Americas and vice president of business development, and he helped put Novell on its open source track. Asay is an emeritus board member of the Open Source Initiative (OSI). His column, Open...and Shut, appears twice a week on The Register.
Sponsored: Minds Mastering Machines - Call for papers now open