Huawei targets UK with sub-£100 smartphone
Set Blighty a-Blaze
Huawei is finally ready to launch a presence of its own in the UK, bringing its promised sub-£100 smartphone to Blighty next month.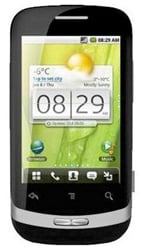 Unfortunately, the Blaze is rather average, with its 3.2in, 320 x 480 display, 3.2Mp camera and 512MB of storage. This can be expanded by up to 32GB with Micro SD card.
Blaze runs Android 2.3 Gingerbread, and packs a 600MHz processor and 256MB of Ram. Not amazing, but comparable to phones such as the HTC Wildfire, and Huawei's hot-headed handset certainly clocks in cheaper.
The Blaze is Huawei's first Android smartphone to sell in Blighty without a network operator's name on it.
Those interested can grab a Blaze for £99 from Phones4U or Tesco Mobile this October. ®
COMMENTS
Get the Huawei U8650
Not bad performance. 600 mhz CPU, but they did something right... It's not bad speed wise. Just don't have tooo many aps open simultaneously. For a step into the Android market, it represents! apfel SHOULD be afraid. Very. AND there are more Androids to come. In addition to the Chinese models to come. APPEL HAD BETTER BE AFRAID!!
600mhz - so no iPlayer over wifi, then? I do not see the point of updating my 2006 Nokia for something which doesn't do "Listen Again".
The beeb are partly bloody to blame for shutting down their realplayer streams and moving to flash nonsense.