BBC website ditches modules in facelift
In come fondle-inspired slides and carousels. Really.
Top 5 reasons to deploy VMware with Tegile
The BBC is the only UK website which ranks in the top 100 sites in the world, and it's getting a fresh look today. The home page is dropping its customisable "modules" in favour of a more modern navigation design, partly inspired by the iPad.
The module design was introduced during the reign of Titus The First (in MMVIII AD *), and back then, modules were very now. The home page was composed of little rounded rectangle boxes that could be moved and stretched, as in a game.
Titus I wrote:
The widgetization adopted by Facebook, iGoogle and netvibes weighed strongly on our initial thinking. We wanted to build the foundation and DNA of the new site in line with the ongoing trend and evolution of the internet towards dynamically generated and syndicable content through technologies like RSS, atom and xml. This trend essentially abstracts the content from its presentation and distribution, atomizing content into a feed-based universe. Browsers, devices, etc therefore become lenses through which this content can be collected, tailored and consumed by the audience.
Genius.
But as it turned out, the internet wasn't evolving in that direction at all. Hardly anybody customised anything – and if they did, it was merely the location, to get local weather. Instead the "ground up" redesign borrows a lot of ideas from the Fondleslabs. 15 to 20 per cent of users hit the home page from mobile devices.

Kick out the modules
Any change to BBC home page is a very big deal, the page gets 9m uniques a week, and is the face of the BBC on the web. It reflects a fair proportion of the BBC's £4bn spending on content, although obviously not all of it. Less experienced and technical users in particular find it incredibly useful.
BBC Online managing editor Ian Hunter said that the basic home page was a "glorified directory". Users weren't sure whether the real BBC home page was BBC News Online, or bbc.co.uk – and research showed they were confused which is which. Since many people just want to catch up on TV and radio, you could say the iPlayer home page is the third "home".
As for the modules, they weren't being used so much.
"The work we've put in hasn't hit the spot as well as it needs to," Hunter said. Users liked filtering, he said, but not enough to register on the site to get it to work. News sport and weather are the site's three biggest draws (or "products").
The design motto was "come for what you need and come back for what you can discover", said Hunter.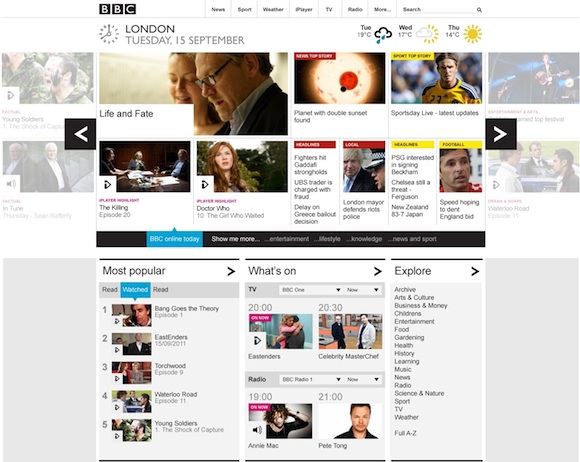 Click to enlarge
The new design is very visual and text-light: there is a main three-pane "carousel", and below that, some funky sliding draws. James Thornett, head of home page search and navigation at the BBC said some clever advanced customisation had been thrown out for being too complicated.
The system goes live as a "beta" option from 10am today, and isn't quite finished. You can't yet set a location, although you'll be able to during the beta. The current home page remains the default, modules and all, while feedback is gathered. ®
* Or as he's more commonly known – Richard D Titus – the former Controller, User Experience and Design and Future Media Controller for Audio & Music and Mobile. Wikipedia lists him as "musician, entrepreneur and movie producer".