Dell shrinks vStart cloud boxes
50 VMs for the heavenly SMB
Dell has put its vStart cloudy infrastructure bundles in the marketing dryer and shrunk them down to a size more suitable for a small and midsized businesses.
The vStart 100 and vStart 200 prefabbed "chunks-o-cloud" came out in April, and as the name suggests, were aimed at equipping companies on the journey to the heavens with stacks of servers, switches, storage, and virtualization and management software with enough capacity to support either 100 or 200 virtual machines on their baby private clouds based on VMware's ESXi 4.1 hypervisor. The thing shows up on the loading dock, all prewired and pretested and the price includes having a Dell virtualization expert show up, take it out of the cardboard boxes, turn it on, and move a few VMs onto the gear.
Today, Dell is going downscale with an even smaller setup, a half-rack of hardware that is designed to support 50 virtual machines. This vStart 50 getup can support up to 50 VMs comfortably on its servers and storage, and in addition to supporting VMware's ESXi hypervisor, there is a version that can be configured to run Microsoft's Hyper-V 2008 R2 hypervisor. You pick your virtual poison.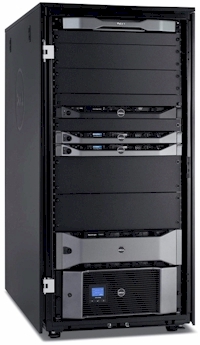 Dell's vStart 50 baby cloud
Also starting today, the original vStart 100 and vStart 200 configurations can now have Hyper-V preconfigured on them as well as the original ESXi hypervisor. If a vStart configuration name ends in an "m" it is running Hyper-V and if it ends in a "v" it is running ESXi. The vStart m models are configured with Windows Server 2008 R2 Datacenter Edition, which has unlimited virtualization, plus management plug-ins to Dell's OpenManage tools and the service processors in the servers and storage. Microsoft's Systems Center Essentials 2010 is optional, and provides a single pane of glass to manage physical and virtual servers and to patch and update operating systems running atop Hyper-V. The vStart v models running the ESXi stack include 60-day trial licenses to the hypervisor and the vCenter Server management console as well as plug-ins between the ESXi hypervisor vCenter to Dell's management tools
The vStart 50 comes with two of Dell's Xeon-based PowerEdge R610 rack servers, each with 32GB of main memory. The setup includes four 24-port PowerConnect 6024 switches (redundant links for both the SAN and the LAN) and an EqualLogic PS4100XV disk array with 7.2TB of capacity. It all slides into a shiny half-rack cabinet. The hardware has three years of Dell's Pro Support maintenance services slapped on it. Dell puts another server in the VMware version of the vStart 50 to run VMware's vCenter Server management console.
Base pricing for the vStart 50m is $59,900, while for the vStart 50v it is $49,900. When you load up the proper vSphere licenses on the machines with support, the gap is going to close real fast and, depending on the configuration, there is little doubt that the VMware setup will cost more than the Microsoft setup.
The mystery is why Dell, which is an authorized VMware reseller, has not bundled VMware vSphere right onto the machine with a proper vSphere Advanced, Enterprise, or Enterprise Plus license. Maybe Dell doesn't want to give SMBs sticker shock if they go the VMware route? ®
Sponsored: Learn how to transform your data into a strategic asset for your business by using the cloud to accelerate innovation with NetApp