Air ways
For most of a decade Apple has differentiated its professional laptops from its consumer products by giving the pro models fast FireWire I/O and depriving the bottom-end of illuminated keyboards. Well, with the latest rev of the Air, Apple stops playing Mean Santa, and Thunderbolt I/O and a backlit keyboard are standard on both Airs.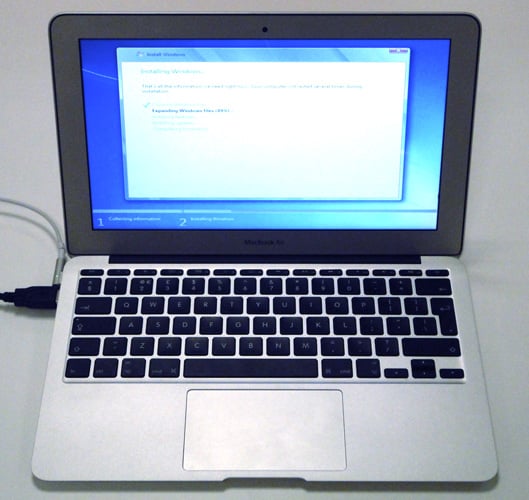 Under Boot Camp it's quite a nifty Windows performer too
As noted in the 13in MacBook Air review, Thunderbolt is currently poorly supported – it might make the laptop 'future proof' but it's not really 'now proof', or 'now useful', because Thunderbolt is a lot of I/O with nothing to do... apart from doubling as a DisplayPort adapter.
You'll look in vain for the promised Ethernet and FireWire adapters for this interface, and apart from some San kit, there's no Thunderbolt desktop storage on the market yet. After a few months, this is a little surprising. New I/O from Apple is typically the starting pistol for vendors to scramble to bring high margin pro kit to market.
Up against recent MacBook Pros, the checklist of what you don't get is no Ethernet (without an adapter), no optical drive, no SD card slot (on the 11in model, at least) and no ExpressCard slot, which is now the preserve of the 17in model only.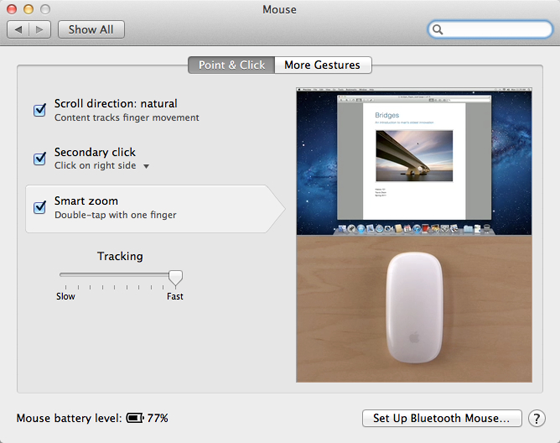 Lion's gestures work on both trackpads and its Bluetooth mouse
If the Air has an Achilles Heel, it's nothing to do with the hardware, but with Mac OS X10.7 Lion. This has introduced some very un-Apple like design decisions – in an attempt to fuse the classic WIMP UI of the Mac with the multitouch direct-manipulation UI of the iPhone and iPad. But instead of simplifying and reducing clutter, Lion confuses and adds complexity. It makes the Air a less deterministic machine than it should be.
COMMENTS
Phew...
"Resources are things we invent, folks, the outcome of our ingenuity"
Thank Christ for that. I'll sleep more easily tonight knowing we can rustle up more oil and gas by using our ingenuity. I've been labouring under the misaprehension that these and other substances only existed in finite quantities on this planet. How wrong can a man be?
Invented resources
I guess the reviewer should put that to the families of some coal miners in Wales (or anywhere else, for that matter). They obviously died in vain.
I must be missing something here.
2GB RAM, i5 CPU, 64 GBs of Storage for £849 = 90%. Can we flag down a cab and head for real street please?
And resources are something we 'invent', the most stupid thing I've read for months.
A regular netbook...
...comes crippled out of the box by Intel and Microsoft, has a barely usable CPU if you want to do more than three things at once - on any operating system, not just Win XP/7 - and has a fairly low res, almost certainly low quality screen. Brazos Netbooks look like changing that, mind, and forcing Intel to pull their finger out over Atom. I've played with a couple now, they're pretty tasty for the price.
The Macbook Air comes with a chunky Core i5 and is actually pretty damned close to being a mobile desktop replacement* in terms of the grunt it has for everyday use, on either Mac OS or Windows 7. The compromise (other than ports) is minimal, and that's why you pay more for it. The compromise with a proper netbook is massive, that's why you pay less for it.
Bear in mind it was only a few years ago that machines of the MBA class (ultra-ultra-portable with usable grunt) were going for closer to £1500 from the likes of Sony and Toshiba, and Apple itself - for what it does, the price isn't half bad.
In the end, that's why paying £350 for a traditional, barely-better-than-my-mobile-phone Atom netbook gets baulked at, and paying £900 for an ultra-ultra portable near desktop replacement is lauded.
Ah, crap, just seen the post it note on my screen - don't feed the trolls. Bah.
Steven R
*for day to day stuff - obviously if you're doing full on video editing or software compilation, you're probably going to go another route.
sure
an Atom is so close to an i5, you'll see no difference.