Design matters
The first Air had strange proportions, reminding me of the "toilet seat" iBook. The current design, introduced last year, is much more balanced, and an instant classic. It's quite beautiful, barely thicker than the USB port, and the perfect size and weight for mobile work. The 11in Air is light enough to pick up with three fingers, and most bags will be heavier than the machine itself. Indeed, if it were any smaller, the keyboard would be compromised.

Lighter than most laptop holdalls
As with all mini-notebooks – and all netbooks – you are left with the strange feeling of peering through a slot after an extended time. Still, the 11in screen does offer a pin-sharp 1366 x 768 resolution – a high density 135ppi versus 128ppi on the larger sibling. That may be enough to oblige you to increase the default font and icon sizes – these have crept up in Mac OS X 10.7 a little.
Indeed, this is why Apple introduced a compositor display model a decade ago, and why Microsoft had to follow suit with Vista. It wasn't for the eye candy, that's a bonus, but because of ever-higher density displays. Such displays actually bring us back to the information density Mac users enjoyed a decade ago, before Mac OS X.
Under typical usage, the machine checked in at around four hours on its new 4725mAh battery. Adobe Flash isn't installed by default, yet once it was, this duration became nearer three than four hours. Incidentally, Java isn't included in 10.7 Lion either. Reg Hardware's continually run PCMark Vantage (under Boot Camp) until it dies test, clocked up a battery life of 1hr 44mins. Naturally, the charge capacity will deteriorate over time, and then, with there being no faff-free battery swap, you're a bit buggered.

The iStat Pro Dashboard widget reveals a single fan lurks within
At no point in normal usage did I hear the internal fan rev into life even though, according to iStat Pro, it has one churning away at around 2,000RPM most of the time, yet this is a machine designed to be silent. During normal usage the base remained fairly cool, with some warming near the rear of the machine's underside. Even when playing three HD videos – in a warm office with the aircon off – the machine remained silent, and the warmth spread to around half of the base, without getting particularly uncomfortable.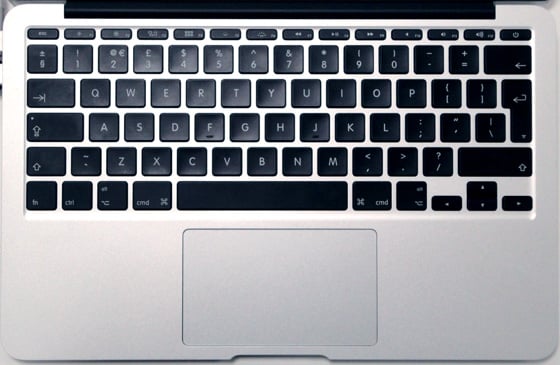 Any smaller and the keyboard spacing would suffer
By contrast, the heat generated by my Core Duo MacBook at peak loads can be felt through my desk. So this is a significant improvement on older Mac laptops, particularly with the notorious Flash in play. Yet, on the Macbook Air, there are no visible grilles or vents. This is quite a feat.
COMMENTS
Phew...
"Resources are things we invent, folks, the outcome of our ingenuity"
Thank Christ for that. I'll sleep more easily tonight knowing we can rustle up more oil and gas by using our ingenuity. I've been labouring under the misaprehension that these and other substances only existed in finite quantities on this planet. How wrong can a man be?
Invented resources
I guess the reviewer should put that to the families of some coal miners in Wales (or anywhere else, for that matter). They obviously died in vain.
I must be missing something here.
2GB RAM, i5 CPU, 64 GBs of Storage for £849 = 90%. Can we flag down a cab and head for real street please?
And resources are something we 'invent', the most stupid thing I've read for months.
A regular netbook...
...comes crippled out of the box by Intel and Microsoft, has a barely usable CPU if you want to do more than three things at once - on any operating system, not just Win XP/7 - and has a fairly low res, almost certainly low quality screen. Brazos Netbooks look like changing that, mind, and forcing Intel to pull their finger out over Atom. I've played with a couple now, they're pretty tasty for the price.
The Macbook Air comes with a chunky Core i5 and is actually pretty damned close to being a mobile desktop replacement* in terms of the grunt it has for everyday use, on either Mac OS or Windows 7. The compromise (other than ports) is minimal, and that's why you pay more for it. The compromise with a proper netbook is massive, that's why you pay less for it.
Bear in mind it was only a few years ago that machines of the MBA class (ultra-ultra-portable with usable grunt) were going for closer to £1500 from the likes of Sony and Toshiba, and Apple itself - for what it does, the price isn't half bad.
In the end, that's why paying £350 for a traditional, barely-better-than-my-mobile-phone Atom netbook gets baulked at, and paying £900 for an ultra-ultra portable near desktop replacement is lauded.
Ah, crap, just seen the post it note on my screen - don't feed the trolls. Bah.
Steven R
*for day to day stuff - obviously if you're doing full on video editing or software compilation, you're probably going to go another route.
sure
an Atom is so close to an i5, you'll see no difference.