Dell XPS 15z 15.6in Core i5 notebook
How to clone a MacBook...
Performance charts
Working flat out is something the 15z does particularly well. At its heart is a dual-core Intel Core i5-2410M running at 2.3GHz, with 4GB of RAM providing plenty of room for running applications. Running PCMark Vantage produced an overall score of 6112, which is impressively close to quad-core systems such as the Core i7 MacBook Pro and the Toshiba Satellite P775. It's easily fast enough to be used as an every-day computer, and its practicality is added to by the 500GB hard disk.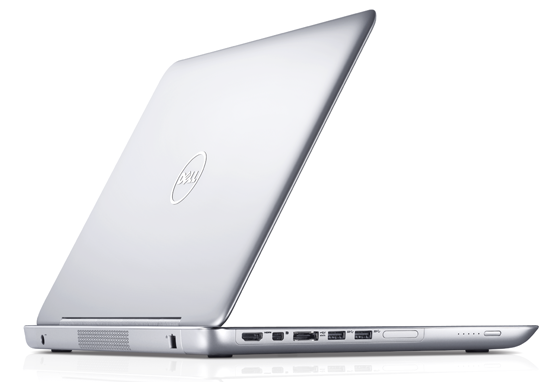 There's even a DisplayPort output, but the MacBook imitation doesn't go so far as to support Thunderbolt
There's a little gaming poke as well – the Sandy Bridge processor comes with an integrated graphics chip, but this is supplanted by an Nvidia GeForce GT 525M with 1GB of dedicated memory, producing a fairly respectable result in 3DMark 06 of 8057.
Benchmark Tests
PCMark Vantage Results

Longer bars are better
Battery Life Results

Battery life in Minutes
Longer bars are better
The 15z has a 15.6in screen; precisely which you get will be a matter of preference and budget; those looking to economise will go with the low-end 1366 x 768 display; those with a penchant for HD films or high-end image editing will need to spend around £100 more on the 1920 x 1080 model. A matt finish isn't available, but the glossy look on the 1366 x 768 review unit isn't overly distracting. More to the point, it's bright and crisp and has very good horizontal viewing angles as long as you can control reflections.
There are a few clever touches – the trackpad is multi-touch, which means, for instance, you can scroll down pages with two fingers. Other multi-touch gestures work terribly though – using a pinching motion to zoom in and out certainly appeals, but its implementation in apps such as web browsers, leaves a lot to be desired.

At 2.5kg, it's reasonably luggable
In Chrome, for instance, pages zoom in and out in 20 per cent increments. It works reasonably well in Windows' native photo viewer, but elsewhere it's too hit and miss. On board is the Mac-alike Dell Stage – a substitute for Mac OS X's Dock. Yet it might have been better if Dell's software engineers had prioritised a better mouse driver instead.