PC World throws in free Bravia telly with Sony fondleslabs
Currys favour?
Early-bird customers who purchase the Sony Tablet S when it is launched this Friday will be given a free Sony Bravia TV.
Retailers Currys and PC World are to start selling the Sony Tablet from 7am on Friday at the Tottenham Court Road flagship store, where the first 100 customers will walk away with a 32in Sony Bravia TV worth £400.
Perhaps somebody's shifting television sets in order to make room for fondleslabs, as nobody is buying tellies anymore. The tablet is king.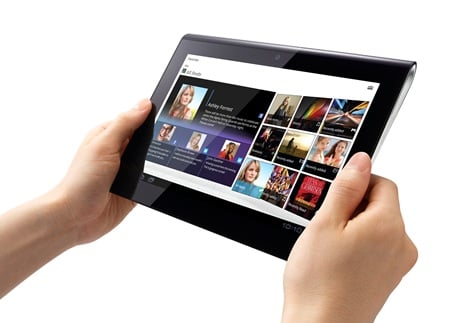 Unveiled officially at IFA 2011, the Tablet S packs a 9.4in touchscreen display, and runs on Android 3.1 Honeycomb with a 1GHz Tegra 2 processor.
The 16GB Wi-Fi model costs £400, while both the 16GB Wi-Fi/3G version, and the 32GB Wi-Fi-only model cost £500. ®
COMMENTS
Fixed
Anything anywhere near the price of an iPad, then people will stick with notepad and pencil.
Price
What do these companies not understand about the pricing of their fondleslabs?
Anything anywhere near the price of an iPad, then people will buy an iPad instead.
£400 is too much
There is no point trying to sell a tablet at the same price as an iPad. It won't sell.
I Was There
As someone who was there, I can confirm that despite Sony's best efforts, this was the usual DSG clusterfcuk. I pitched up just after 5.00 a.m., and was assured that all 100 people in the queue from yesterday had booked their place. In fact, at the time, there were about 80. So despite the bribe of a £549 RRP telly, not exactly matching Apple in the fanboi league overnight.
Thinking the game up, I headed for a coffee only to see a photographer tweet that there were still spaces in the queue. It took 25 minutes to find a Sony marketeer who confirmed that I should just join the queue anyway. By then I'd missed out by about a crucial 30 places or so.
The only thing magical and revolutionary about this launch was the magical and revolutionary close-up magician, Brendan Patricks, sent to amuse the queue - who was genuinely amazing.
I stuck around until we were let in anyway, and had a good play with the tablet with the assistance of a very well trained Sony rep - DSG's photogenic youngsters doing little more than smiling inanely. Mind you, in order to do that, I had to tether the slab to my own Three MiFi, as DSG were unable to provide a workable WiFi network in their "flagship" London store. Even with this early software, it seemed responsive, and fullscreen flash on the full iPlayer site worked perfectly. I quite liked the wedge shape too, although I'm not sure about some of the industrial design, the ports, in particular, look a bit shoddy.
If Sony controlled the whole retail experience, they might be halfway to competing with Apple. While they are stuck with retarded channel partners like DSG, they've got no chance. Should have launched at John Lewis.
£400 IS a good price for a very nice tablet.
Based on what?
A market entry point determined by ...Apple?
I think that about £200 would be a good price for a very nice tablet,
Yep, I know I won't be buying one for a while!