Ten... digital voice recorders
Modern dictators
UltraDisk DV7

With the DV7, UltraDisk is catering for the lower end of the market here, and this memory key, radio and voice recorder combo is, apparently, one of the company's best selling products in the UK.
This particular model holds 4GB of data and records in three formats, MP3, Wav and ACT. Despite it's small size, the DV7 still manages to pack-in relevant features such as voice actuation. It does take a fair time to start recording and process at the end, though, and it doesn't have much in the way of file protection. Changing settings can be quite fiddly too and there's no fast forward, let alone scrubbing ability.
Captured from a pinhole-sized microphone, the audio quality was never going to realistically compete to other models in this roundup. Indeed, the DV7 is better used as a handheld interview or personal dictation box rather than lecture capture or use in noisy environments.
While not ideal as the office dictation machine, the DV7 is definitely a handy to have in your pocket when the mobile phone is out of juice and spontaneous ideas are brimming. It's focused on the recording aspect, but still provides a fob-pocket-sized audio device with a range of format support, and all for the price of £45. Things could be worse, although tests revealed the DV7 wasn't Mac compatible.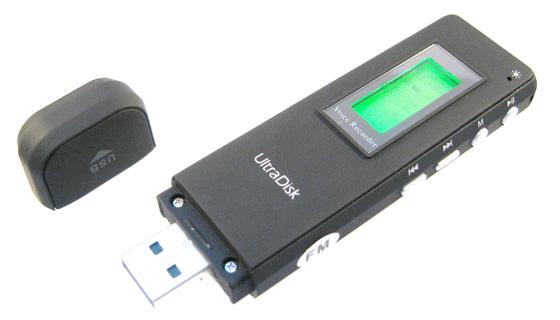 Reg Rating 65%
Price £45
More info UKET
Ultradisk DV10

The 8GB Ultradisk DV10 is essentially just a USB key with a voice recorder built in. Flick the switch on the side and within a few seconds, the key starts recording, blinking a little red LED lamp to let you know the status. Turn it off and the file saves, popping an MP3 onto storage. It doesn't get much simpler than that.
The resulting sound clips are actually pretty decent for a mic that's hard to spot, but it's not ideal. Still, to have a device you'd probably carry around with you attached to a keyring, the bonus functionality is warmly welcomed. Obviously there's no way to listen to what's being recorded, delete files on the go, or attach any external mics. It's just a memory key with a switch and microphone. Simples. Oh, and there's no Mac compatibility either. Bummer.
Also, the DV10 remains a tad on the pricey side. For a tenner more, you get the aforementioned DV7 and heaps of additional playback features as well as a headphone port.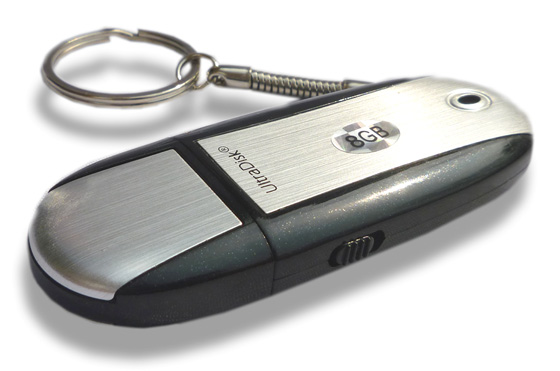 Reg Rating 55%
Price £35
More info UKET
Sponsored: Minds Mastering Machines - Call for papers now open