Ten... digital voice recorders
Modern dictators
Philips Voice Tracer LFH0615/27

Although I quite like its almost 1980s styling, this Philips has no backlight on the basic calculatory display. Its plastic body isn't exactly robust either, which is a bit of let down following its retro-tastic start. A mini USB port on the side connects to the PC, so a cable is a necessity and, with no memory expansion, you'll have to make do with the 4GB onboard.
The Voice Tracer is easy to use, though, and can power on and start recording at an instant. There are 396 recording banks spread over four folders to fill, as well. However, this Philips drops the Wav format – which its predecessor had supported – instead, going solo with MP3, all in mono. There's a mammoth battery life of up to 141 hours, though and a fairly nifty voice actuation features, plus Philips ClearVoice - essentially an onboard dynamics processor to even out variations in signal level.
Sadly, sound quality is far from ideal and quite bassy. Talking into the microphone is a must here. For a triple figure price, the Philips was one of the least clear in my London Underground test too and I cant say I was overjoyed with the overall results.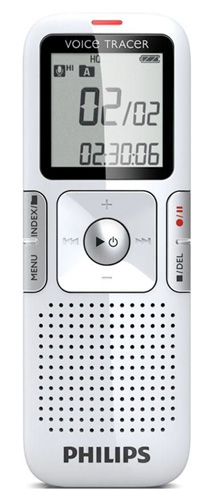 Reg Rating 70%
Price £60
More info Philips
Sony ICD UX300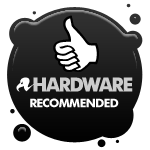 Sony's ICD UX300 is a nicely-sized recorder that serves its purpose reasonably well, with just a few shortcomings. For starters, the 4GB memory is all you get, as there's no storage expansion. Even so, filling all 990 recording slots is an unlikely prospect.
The microphones also appear to have little protection from the elements, protruding from each side and picking up a lot of wind in outdoor environments. There is some noise reduction tech installed too, which won't solve the problem of wind, but does a good job cutting out noise on the tube and reducing the background hustle and bustle.
It's unlikely to serve too well in a voxpop interview on Brighton beach, but use it in a meeting or seminar and the UX300 does more than a sufficient job, delivering a crisp sound. A switch on the side changes the skip track buttons into playback speed controls, also skimming through the track without a chipmunk squabbling in your lugs.
Other features include voice actuation, a direct USB connection and the ability to double up as a music player. The lack of additional storage and the wind-sensitive microphones is just too much of a let down to justify the triple figure price point, though.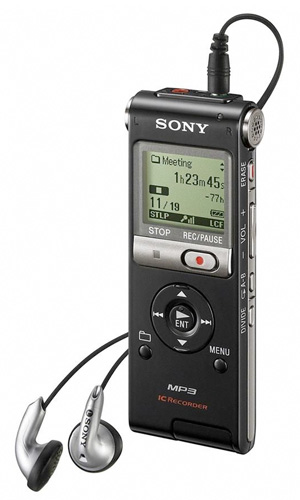 Reg Rating 80%
Price £119
More info Sony
Sponsored: Minds Mastering Machines - Call for papers now open