Ten... digital voice recorders
Modern dictators
Olympus WS-550

The WS-550 has a lightweight, somewhat flimsy build, with a conservative design and button placement intended to be an ergonomic fit for a right hander. However, these buttons are a little small and someone with fat fingers might struggle. The display is definitely a plus point, though, bright and clear with logical menu layout and an informative dashboard.
This minimalist recorder does pick up a lot of handling, and consequently should remain deskbound. Its mics are well placed and pick up a wide soundscape delivering a fantastic stereo image. The recordings are quite bright which are great for voice definition, but can be a bit thin, with no real weight behind the sound.
While MP3 and Wav files are supported for playback, the WS-550 instead records in WMA format, with six different quality levels to choose from. It holds a less than average 200 files over four folders, although with just 2GB of storage it's hard to see it spilling over. There's no memory expansion slot, which is a bit annoying, especially if the WS-550 wants to fulfil its secondary function as a music player. You also have to enter a menu setting to tweak playback speed, which makes scrubbing an impractical prospect. Not great for skimming lectures.
It runs on a single AAA rechargeable battery that boosts juice through the recorder's USB connection. The battery life is a decent 21 hours too. Unfortunately, the price is high for what you get, especially for just 2GB storage with no means of expansion.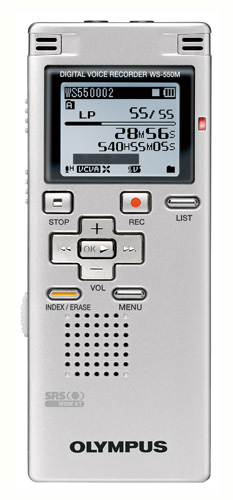 Reg Rating 75%
Price £80
More info Olympus
Panasonic RR-XS410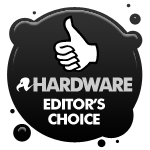 The Panasonic RR-XS410 is awash with controls that make the device seem overcomplicated. Couple that with a plastic pearl body and tacky-clack buttons, and first impressions aren't so great but using the the recorder is a different matter, and I was suitably impressed.
Recorded sound quality in either uncompressed PCM (44.1/48kHz Wav) or various bit-rates of MP3 is top notch. The stereo microphones handle a broad frequency range, yet keep ambient noise in the background. Voices are crisp and clear compared others on test that could be rather muddied. You can also select which environment you're recording in, so be it musical performance, meeting or lecture, there are microphone settings for most situations, even Karaoke.
Variable playback speed is included among the transport controls. Whack it up to 200 per cent and it doesn't sound like the Alvin and the Chipmunks, either, it's the same pitch, just faster. The device can store 199 files in four folders, with an additional 199 line-in recordings available in a fifth. Navigating through these is simple enough and the bright orange display really stands out.
The RR-XS packs a built-in memory of 4GB, with expansion available through the MicroSD slot. Powered by a single AAA battery, which has a rated battery life of up to 21 hours, the Panasonic has a lot going for it. Connecting to the computer with a built-in USB plug is handy too. Quite a nifty little character and, given its price, is highly recommended.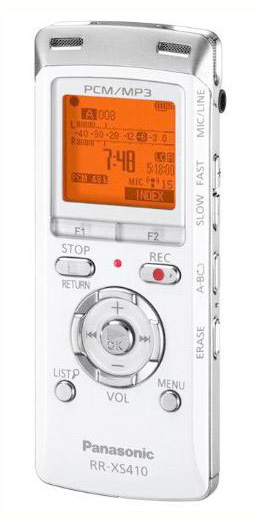 Reg Rating 90%
Price £100 (Out in October)
More info Panasonic
Sponsored: Minds Mastering Machines - Call for papers now open