Apple pulls smartphone slavery app
Child labour exposé 'excessively objectionable'
An iPhone game that documents the process of creating a smartphone has been removed from the App store, after its content proved too excessive for Apple's guidelines.
Molleindustria's Phone Story takes a humorous stab at the controversial process of smartphone manufacture, from mining in the Congo to the abysmal factory conditions that, allegedly, resulted in the Foxconn suicides last year, Kotaku reports.
It goes on to show the process of commercial release as well as cultural and environmental impacts. The company states all revenue made from sales goes to organisations that are fighting corporate abuses.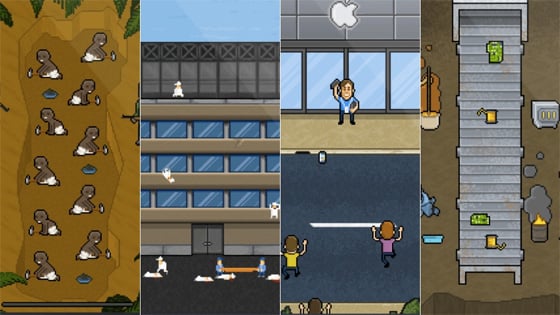 While the game may very well have hit a nerve, Molleindustria has since shown that the Cupertino giant pulled it for being in violation of the following guidelines:
15.2 Apps that depict violence or abuse of children will be rejected
16.1 Apps that present excessively objectionable or crude content will be rejected
21.1 Apps that include the ability to make donations to recognized charitable organisations must be free
21.2 The collection of donations must be done via a web site in Safari or an SMS
The company is contesting the last two objections as apparently "it's not possible to make donations through Phone Story. Molleindustria simply pledged to redirect the revenues to non-profit organisations, acting independently."
A new, less crude version, that "depicts the violence and abuse of children involved in the electronic manufacturing supply chain in a non-crude and non-objectionable way" is now being considered. ®
COMMENTS
"People buying the device already knows the work conditions and the devices draconian end user/developer agreement."
Not at all. They probably think that buying the most expensive phone is a guarantee that it's made in an ethical manner. After all, sweatshops only make *cheap* toys and clothes, right?
This isn't a margin-squeezed product; customers are paying a lot of money for iPhones and those margins deny Apple many of the normal excuses, so how come these stories keep hanging around? Sure, Apple are hugely successful and everyone wants a shot at them, but that can't be all of it. Nokia used to pretty much own the mobile business, but never attracted this kind of consistent bad press.
Apple has always had a pretty "right-on" left-leaning culture and their direct hires were always treated well, so it's hard to imagine them deliberately seeking out sweatshop manufacturers. But... they don't refuse business from suppliers they know are engaged in these practices. The stock defence of "our supply chain is complex - we can't know every step" is a bit disingenuous, because they're able to police that supply chain when it comes to preventing leaks.
Here's a Title! Shock Horror
I suspect that you give too much credence to the average (smart) phone user. Most of them aren't aware of the conditions in which their new toy is produced, and probably don't give a damn anyway.
all revenue made from sales ...
Well, there is your problem. All revenue must go to Apple.
Maybe their next game could be called "Phone Developer Story"?
Oooh, that's got promise.
How about "Wheel of Approval"? Click "Play", then the screen whirls around for a random number of days, before finally displaying "Sorry, you lose. Play again". In the meantime it generates angry emails from your client asking where the f_ck their promotional app is because they're supposed to be going live tomorrow with the campaign that its a critical part of. If you win, they only dispute half your invoice.
If you get past that level, you can play "Customer Support: Idiot Extreme", where you get random messages of spite and abuse because the free software someone got doesn't make them breakfast every morning.
Or, how about that "Negative Review Bingo" mini-game, where you get assaulted by hostile reviews from people who can't read product descriptions, and/or have no concept of how much time and effort goes into a piece of software, and therefore can't understand why you want more than $0.00 per download.
Android editions could include three bonus levels: "Where the F_ck's my Money You Big Green Metal Bastard?" where you chase your distributor for payment; "You sold it for WHAT?", where you have to guess when one of the storefronts is going to decide to give your app away for free, landing you with thousands of whinging freeloaders and no income to pay for the time their incessant support costs will suck away from you, and "Pugwash Whitewash", where your distributor stonewalls you when you complain about rampant piracy.
On Nokia version could have a bonus round of "Installer Roulette", where you never know if what you're selling to the customer will get onto their phone, and "Simian Signing", where you throw balls of money at a gang of monkeys until they reveal the secret power-up that lets you do what you wanted to do in the first place.
Still, it beats writing middleware...
What the Dickens?
I presume they'll be pulling Oliver Twist from the iBook store because of the parts where he's in a workhouse?