Windows 8: First contact with Microsoft Touch
Strong enough to ARMwrestle Android and iOS?
Metro Charms
Although Metro apps run full screen, with the right gesture you can swipe another app into view and then dock it, giving you two apps open together, with one occupying around 75 per cent of the screen.
One of the Metro tiles is called Desktop. Tap this one, and presto, you are back in the familiar Windows user interface, though this is as frustrating as ever if you try to run apps using touch alone. Our review sample came with Bluetooth keyboard, a dock and a stylus, and using these in combination made it work pretty much like a Windows 7 PC. Tap Start though, and you are back in the Metro world.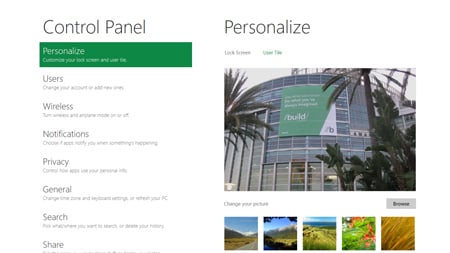 The Control Panel: an example of a touch-friendly Metro app just beware "More Settings"
Another key feature is called Charms. This is a menu of five icons which appears if you swipe the right edge of the screen. There are Charms for Search, Share, Start, Devices and Settings. From a user perspective, the Charms give a standard means of performing certain tasks. For example, select Share when in a picture app, and you can share your picture via any app that knows how to share pictures, such as Flickr or Facebook. Under the covers, this is done by a mechanism called Contracts, which apps implement either as providers or consumers.
While the Metro-style interface works well on the developer preview, it is hard to get the full flavour of it, since standard apps that were demonstrated to the press, including the email client, calendar and contacts are missing. Nevertheless, the Metro system is well optimised for touch and enjoyable to use.
Similarly, a new Windows Store was shown to the press but is not present in the review sample. Since BUILD is a developer conference, Microsoft is emphasising the speed and ease of use of the app submission process, which should take no more than 24 hours. Details of how the store will work are sketchy, but the company did let slip that only Metro apps will be allowed for ARM Windows, and that the Store will be the only way to install apps on ARM. This is significant, since it implies that Windows 8 on ARM will be an iPad-style locked-down platform.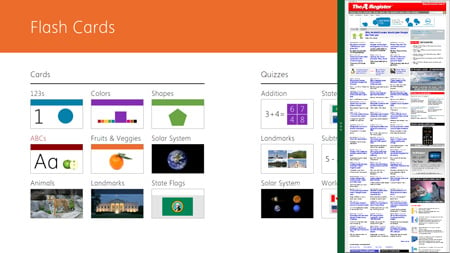 Double vision: You can display two apps side by side in Windows 8
ARM Windows will still have the old Windows desktop alongside Metro, but it seems Microsoft intends it to be more a Metro platform than a hybrid, whereas Windows 8 on Intel is definitely a hybrid.
It is easy to see why Microsoft is giving Windows 8 a split personality, but it does introduce inconsistency into the platform that may damage its appeal. On the other hand, the positive spin is that you get the best of both worlds: touch-friendly apps for tablet but full Windows when you need it. A critical factor is whether Metro apps will cover enough features so that tablet users will rarely need to venture into the desktop. Without this vital element, Windows 8 on a tablet will be annoying to use.
Windows 8 is a bold, risky move from Microsoft. Energy that could have gone into further refining Windows has gone instead into a new platform that will run alongside the old. While Metro looks good, it will not be easy for Microsoft to establish it, given the dominance of iPad and the strength of Android in the tablet market. ®
Sponsored: Minds Mastering Machines - Call for papers now open