Guardian pratfall swaps homepage for US insurance firm
Proud sub-editing tradition spreads to website team
The Guardian accidentally directed readers of its site to an American life insurance website this morning for about an hour - a mistake first spotted at about 10am.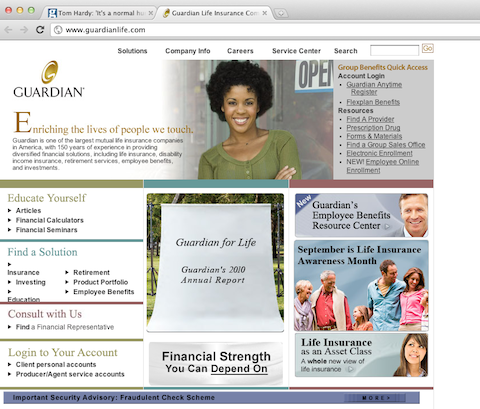 The US insurance site that surprised Graun readers were redirected to
The URL slip-up affected the logo link at the top left of all Guardian pages. Clicking on it sent users to guardianlife.com instead of taking them back to the guardian.co.uk home page. Stunned readers were herded to the New York-based insurance company, which boasts of a proud 150-year history in selling diversified financial solutions.
Although rumours initially swirled that it might have been a hack, it turns out it was just slip on the keyboard by a web gopher.
"It hasn't been hacked," the Guardian press office told us. "It was just the result of an error that was made; somebody typed in the wrong URL."
Ahem. Did the butterfingered production worker get mixed up with the Guardian life and style section, or did they just have insurance on their mind?
In response to concerns raised on Twitter, Guardian technology editor Charles Arthur said that the bug was an "error in config file" rather than a hack, adding that anyone trying to redirect the Guardian to a life insurance website would have been the "least ambitious hackers evah." ®
Sponsored: Minds Mastering Machines - Call for papers now open