Cello C42T71DVB-3D 42in passive 3D TV
Built in Blighty
Standard fare
Still, the set does have a decent user interface, although the Now & Next programme guide is a tad limiting. 

Picture quality is hampered by the standard definition tuner. Low bit rate Freeview channels never look great, and this Cello doesn't have the processing smarts to turn them into anything resembling a silk purse.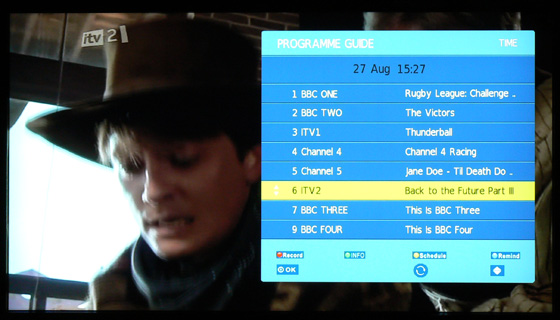 EPG
Contrast is limited. The backlight manages a dark gray, which in typical CCFL fashion looks its best when you turn the houselights up. There's no proprietary fast framerate frippery. Consequently, motion resolution is a lowly 600 lines (measured at 6.5ppf). However, feed in some high-def via a set top box or Blu-ray and there's a pleasing crispness to its pictures – provided you defeat the halo-inducing Sharpness control.
The LG panel delivers effective 3D from Blu-ray, although there are caveats. Double imaging is low, as long as you view it square on. The 3D sweet spot is very narrow. As with all passive sets seen to date, deviate off-axis vertically and rampant double imaging quickly kicks in. Side-by-side 3D looks very poor though, with overt ghosting. Four pairs of glasses are included in the box.
On the plus side, the set's USB media reader puts some bigger brand sets to shame. It played back my AVI, MOV, MP4 and MKV-wrapped test files without hitch, as well as MP3, WMA, WAV and AAC audio tracks. There's no album art support, but video files do benefit from a preview pane, and subtitles are supported.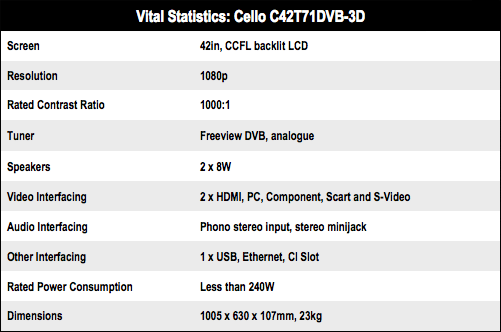 Sponsored: Minds Mastering Machines - Call for papers now open