Driver San Francisco
Speedy detective work
Cruise control
Locations of story critical missions are highlighted in gold while Tanner surveys the city from his bird's-eye perspective, with side missions highlighted in blue. The player is free to choose missions and there is never any particular impetus for the plot to be progressed. Indeed, simply cruising around San Francisco in one of the game's many licensed vehicles is engrossing enough, if you're of a mind to simply chill.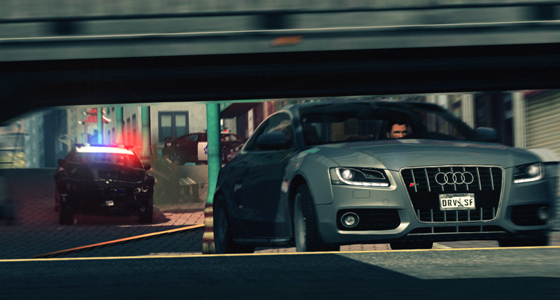 Hello John, got a new motor?
That said, mission types carry enough variety to keep you engaged – races, pursuits, dares, stunts, escorting and even bomb defusal all making an appearance, demanding the use of Tanner's shifting in slightly different capacities. There's even the occasional humorous touch; a shift into a brand new Audi for example prompting the passenger, the daughter of the driver, to thank her dad so much for her "sweet-sixteen present". Cue Tanner inevitably writing it off by slamming it into the back of his prey. Alas, we don't get to see the resulting conversation once Tanner leaps out again, but hey, you can't have everything.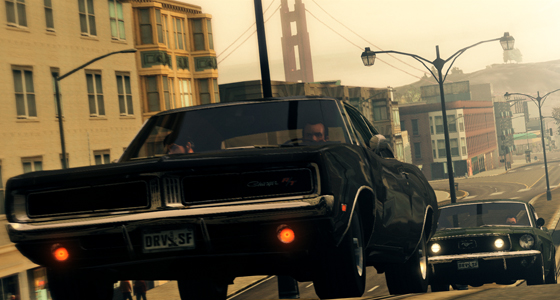 Night riders
Liberally scattered across the city are a number of garages too, places at which further cars can be bought and Tanner's additional powers (turbo boosts and increased ramming power) upgraded. All of the missions you've already come across can also be re-entered here, perfect for anyone looking to beat their best times or else complete a previously unattainable objective.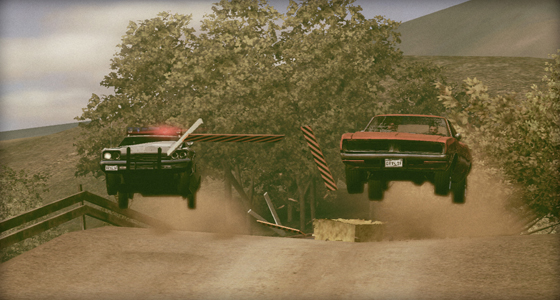 Includes flight simulator...
With such positivity it's easy to forget that the game does have its flaws. Anyone looking for a 'proper' driving experience will find the handling of cars arcade-like to put it mildly – though, that said, it's more convincing than GTA's driving for example. There's also the annoying tendency for mission critical takedowns to be showcased by the game's engine. It looks pretty, yes. But taking the control away from you, even momentarily, sees your car go careering into the nearest barrier with alarming alacrity; so prompting yet another restart.
Verdict
Driver San Francisco is a game that could have all too easily failed in its inception, with its unique selling point dismissed as just a gimmick, like so many poorly thought out and badly implemented ideas before it.
Thankfully, the game's developer, Ubisoft Reflections, was given time to get the formula right – over four years. It's a commitment that shows in the quality and just downright fun that pervades Driver San Francisco, a game worth taking the time to explore. ®
More Games Reviews

Bodycount
Deus Ex:
Human Revolution
From Dust
Shadows of
the Damned
Call of Juarez:
The Cartel
Sponsored: Minds Mastering Machines - Call for papers now open

Driver San Francisco
If only all the wrongs of the real world could be righted by fender-bending criminals at 100mph. Available on PS3 (tested), Xbox 360, Wii, PC.