StreetView gets the willies in Victoria
Look what popped up in the middle of nowhere…
In the great tradition of pranking Google's photographers, someone has penned a phallus on a Google StreetView camera-van in Australia.
It pops up in the appropriately-named town of Long Gully, near Bendigo in Victoria, and continues through Maiden Gully (no, really).
The graffito was apparently first noticed by BuzzFeed.
Here's something of a mystery, however.
The willy is on the east-facing camera as the vehicle travels down the Calder Highway towards Maiden Gully – or, perhaps, away from Maiden Gully if it was on the rear camera. It appears / disappears either side of an intersection in the middle of nowhere, changing from a willy-free view a few hundred meters west of the Calder Highway / Murdoch Lane intersection to a "green hornet" in the shot a few hundred meters eastwards.
The images make it clear that there's nothing much around: no town, no café or service station, nothing.
So: did the driver decide the clean the camera after a bug-splat? Was the driver carrying a passenger who took advantage of the driver popping behind a tree? Does the inaccurate representation mean that it was painted by an alien taking a break from terrorizing rednecks? We may never know. ®
Update: Some readers have trouble seeing the graffiti in the embedded images above. So here it is, close to the vantage point where it was first found. I was merely intrigued that it would either arrive or disappear at such an out-of-the-way spot. ®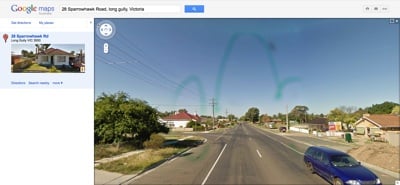 Sponsored: RAID: End of an era?