Orange Monte Carlo budget Android smartphone
That Riviera touch
Orange peel
Another budget feature is the limited system storage, the Monte makes do with just 512MB, yet out of the box, only 130MB is free. This makes me rue the 20-odd megabytes taken up by rubbish like Orange Maps, Orange Mail, Orange Photo, the Orange App Store and half a dozen crummy games.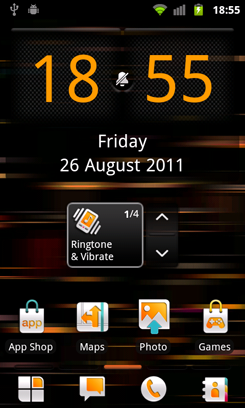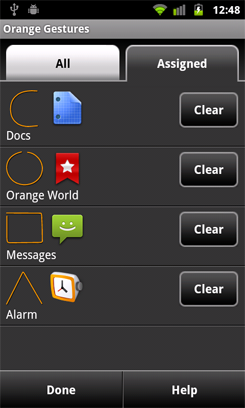 Main menu and gestures options
The final cut corner is its Wi-Fi is 802.11b/g rather than 802.11n. Alas, it's a pretty poor iteration at that, with wireless signal reception sometimes showing as somewhat marginal in places where my HTC Desire HD indicated a full or near-full signal.
Benchmarking with Quadrant Standard, the Monte Carlo notches up a score of 955. For comparison, the Desire HD scores 1430. Yet despite less than impressive results, superficially, the Monte Carlo feels almost as slick as the Desire HD. It's certainly a good deal faster than the San Fran, and if ZTE's aim was to deliver user interface experience akin to a Snapdragon phone but at a knock down price, then it has succeeded.
For a budget handset the Monte packs in a couple of interesting features. Borrowed from the CyanogenMod7 playbook is Gestures, which lets you fire up an app by tracing a pattern on a home page though not on the lock screen as per CM7.
The Monte Carlo also comes with Orange's HD Voice and Signal Boost technology. HD Voice is Orange's name for the Adaptive Multi-Rate Wideband speech codec. It improves voice call quality across the board – imagine everything sounding like Skype – but it only works when calling other HD Voice users.
Signal Boost, on the other hand, uses the phone's Wi-Fi connection to hook up to Orange's cellular network in areas of poor or no reception – it's UMA or Unlicensed Mobile Access by another name.