JP Morgan has a Playmobil moment
Euro debt crisis explained in miniature
They say imitation is the sincerest form of flattery, so we're well and truly flattered that JP Morgan has taken a leaf out of the El Reg Bootnotes book and decided that figurines are the best way to illustrate important news.
In this case, it's the European debt crisis rendered in Lego miniatures: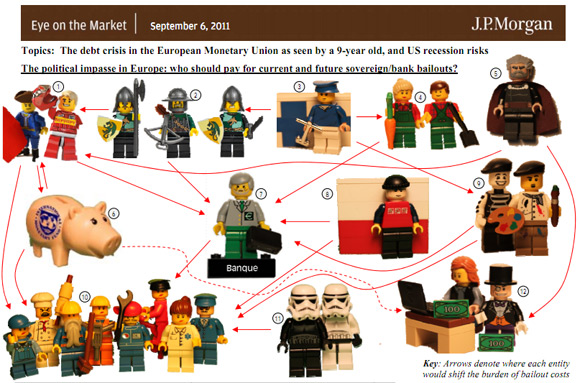 For a full description of what this is all about, click here, where you'll also discover that it's the work of nine-year-old Peter Cembalest, "who specializes in conceptualization of such phenomena".
Not a bad effort, and we particularly like the Bundesbank and EU Commission (numbered 5 and 11, respectively). ®
Sponsored: Are DLP and DTP still an issue?