Desk job?
Like the Samsung RF711, the dv7's expansive chassis is put to good use, and accommodates a pair of 500GB Hitachi hard disks, while the right-hand edge houses a Lightscribe DVD-writer. The absence of a Blu-ray player is a touch disappointing, though.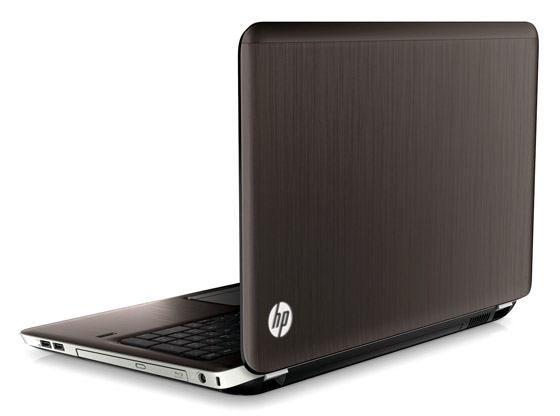 Desktop replacement at a tidy price
The idle battery life of the Pavilion dv7 was slightly surprising – it's not unusual to see under four hours on a big desktop replacement, so the 5hrs 54mins result bodes well for those who want something to use away from the mains. The intensive use test was less impressive, although 2hrs 11mins is still likely to be acceptable to all but battle-hardened road warriors.
Students looking for a machine to get them through a few years of all-purpose computing should look no further – this is a great deal, powered by an up-to-the-second processor and with enough headroom to last a decent while, and the relatively long battery life is a definite plus.
Verdict
The HP Pavilion dv7 has a huge screen, and while power users will crave more pixels, there's not much you can't do with 1600 x 900. Its desktop-replacement credentials continue with the full-size keyboard and numpad, and although this isn't exactly the best-looking machine out there, its ergonomics are perfectly fine for daily desk work, if you don't mind the off-centre trackpad. Those with high-end aspirations should be mindful of the relative lack of computational poke, yet at under £600, there's a lot to like here. ®
More Notebooks Reviews...

Dell
Alienware M18x
HP
Envy 17 3D
Toshiba
Satellite P775
Samsung
RF711
Lenovo
Thinkpad Edge
E420s

HP Pavilion dv7 17.3in Llano notebook
Desktop replacement powered by the latest AMD CPU.
COMMENTS
Sounds very tempting ...
... for maybe £120 in HP's next fire sale?
Finally, A Welsh Laptop
The name Llano was blatantly chosen to appeal to the Welsh speaking market.
I disagree.
In the early 2000's, my quite-general-purpose/student computer had a 24inch monitor with about that number of pixels (in 3:4). It was fantastic to do coding work with, some light photoshopping, or watch a dvd, but ate up all of my desk.
This is just a space-efficient version of that, especially considering my workload & habits haven't really changed... 1080p screens are fine, but make no difference to any DVD I have and very little to any iPlayer/Lovefilm online watching. It clearly stated "budget" here.
I agree....
should at least have a 1080p screen on a 17" but it could have been worse.
Again its another one of those 17" laptops that falls into the jack of all trades bracket.
For me a 17" laptop should be one of two designs.
1. A desktop/workstation replacement, fairly robust and optimised for work/web/design. Dual HDD/workstation GPU/8GB+
2. A media centre with all the gloss and fancy media trappings (Bluray, HDMI,1080p etc. etc. )
This is another 17" that doesnt really appeal to either.
"reasonably..."
Your Thinkpad is at least £400 more expensive.