No pain, some gain: Ubuntu Oneiric Ocelot examined
Love it or leave it, Unity is here
Muddled menu
Far more useful is the new ALT-TAB switcher, which now displays window previews, even for minimized windows. It's a small upgrade that both looks better and makes it easier to find what you're looking for when you switch windows.
Among the other, smaller visual changes is a new icon for the "shutdown" menu. Designers at Ubuntu's chief steward Canonical have added a small gear icon to the traditional shutdown icon in an attempt, it seems, to give you a hint that in fact the shutdown menu isn't just a shutdown menu. It manages to get the idea across, but doesn't really help the muddled menu beneath it that still can't decide exactly what it wants to be - just a shutdown menu, or something more.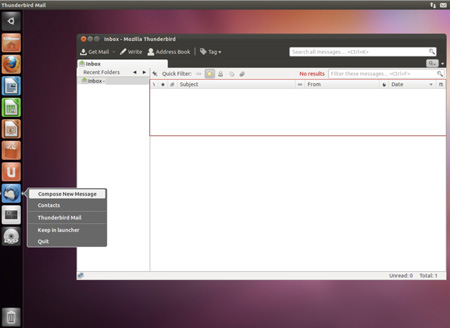 Thunderbird replaces Evolution as Ubuntu's mail application
The Software Center continues to improve with this beta, too. This time around it's also much faster thanks to the new GTK 3 backend. Of course it still lacks some of the features found in Synaptic, like the ability to install a specific version of a package. It's also worth noting that, with 11.10, Synaptic has officially been shown the door and is no longer installed by default.
Other apps on the outs include Evolution, which has been replaced with Mozilla's Thunderbird mail app: Thunderbird 7.0 beta one will be the official email client for Ubuntu 11.10. While Thunderbird is in many way much nicer than Evolution there's no denying that it's missing a calendar, which might be a huge stumbling block for some users. There is Lightning, a calendar plugin for Thunderbird, but it isn't installed by default.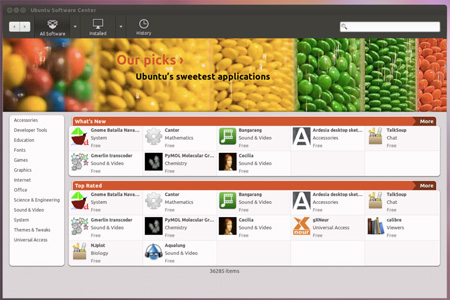 Software center is faster but lacks Synaptic's finish
The first beta also has something of a bombshell for Ubuntu users who don't like Unity. The option to revert to the GNOME 2.x desktop is now gone. Since 11.10 completes the under the hood upgrade to GNOME 3.0, there is no GNOME 2.x to revert to anymore.
The message of 11.10 seems pretty clear: Unity is here and you're either going to love it or leave it. While Unity is clearly improving - and getting faster - it remains a departure from the old GNOME interface that isn't going to please everyone. If all else fails you can always jump ship to the XFCE desktop, which now counts Linus himself as user. ®
Sponsored: Minds Mastering Machines - Call for papers now open