Bodycount
Esprit de corpse
Black thoughts
The only issue with this kind of structure – with all too many enemies strewn across a stage – is that in order to precisely aim your weapon, you have to hit a shoulder button to zoom, at which point you usefully lose the ability to move. Fine, if you're behind cover – though that gets shredded away quickly – but not very healthy at all if you're forced to stand in a spot by a specific mission objective. Given that enemies continuously, and randomly, generate on all sides of you doesn't help matters either.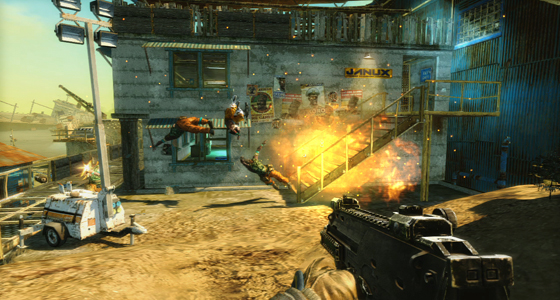 Fire fighting
Graphically, there's little going on to shout about either, the destructible environments looking reasonable enough but lack any real clarity of textures, which is possibly down to the game using an adapted Dirt 3 engine. Character models are of the cartoonified variety, somewhat similar to Brink's but not as well animated. How much damage you're suffering is also difficult to glean; a red mist might be a visual indicate you're being shot, but working out just how near death you often proves difficult until it's too late.
Multiplayer is similarly lacking in bells and whistles, with just co-op, deathmatch and team deathmatch options available at release, this is a little shocking considering what is expected and demanded of the genre's creme de la crème. Imagine the outcry if Battlefield 3 or Gears of War 3 were released with so few on-line options available.
Verdict
Over all, Bodycount feels like a game made by a development team that hasn't seen the progression in the world of the FPS these last few years. A spiritual successor to the decent PS2 generation shooter, Black, it might be, but Black – for all my fond memories of it – wouldn't cut it today and, simply put, nor does Bodycount. There's no doubt the team has the potential to put a fast and furious shooter together but, this time at least, they've not quite managed it. ®
More Games Reviews

Deus Ex:
Human Revolution
From Dust
Shadows of
the Damned
Call of Juarez:
The Cartel
Air Conflicts:
Secret Wars
Sponsored: Minds Mastering Machines - Call for papers now open

Bodycount
How to find a solution to a politically complex civil war? Simple: Blow the hell out of both sides and let the devil sort them out. Available on PS3 (tested) and Xbox 360.