Bodycount
Esprit de corpse
Plotting destruction
In fact it's moments like these which not only make a mockery of the plot, such as it is, but leave you suspecting that maybe, just maybe, the whole story thing was something of an afterthought. Not that plot is everything in the arena of the FPS, especially those that favour brawn over brains, but sadly Bodycount's action, while OK, just doesn't push any boundaries nor introduce any noteworthy ideas of its own.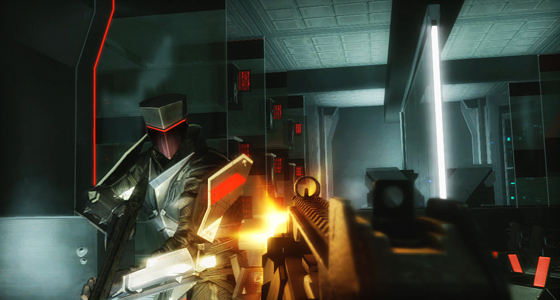 The scene changes make it appear like two games were grafted together
Among the selling points is scenery destruction, which has been done in games such as Red Faction for years, and will be done to greater effect than this in Battlefield 3. Then there are the power-ups you gain as you blast your way through the game – a damage limiter, the ability to summon air strikes and a device which reveals enemy location amongst them – but, again, nothing not implemented elsewhere.
Finally, there's the kill counter itself. Sure it's fun at first, but lacking the variety and sheer wit of the similar system installed in Bulletstorm, with far fewer creative ways of describing the various trick shots available.
The hostile forces too, display an equal unwillingness to surprise, falling not only into the trap of being blessed with an ability to detect the player from a country-mile away (if they happen to be facing in your direction), but also often blundering straight through the player character. It's enough to bring back the clipping issues which so plagued games back in the 1980s.
You will eventually take on troopers who resemble some kind of lovechild betwixt Cylon and Stormtrooper, but while heavily armoured – and so tougher to kill – their actual intelligence is barely improved and their effectiveness simply down to there being lots of them in a confined space. That said, fun can be gleaned from charging headlong into their midst, while unleashing whatever weaponry is at hand – generally consisting of a rifle and a shotgun, though primary and secondary guns can be changed at console terminals.
Light ammunition?
Bodycount's environments are basically small sandboxes – in which you're free to wreak your own brand of havoc – so you're free to experiment, grenades proving particularly entertaining when tactically placed. There might be a mission objective, but if you would rather take your aggression out on the natives, there's no need to hurry.
Sponsored: Minds Mastering Machines - Call for papers now open