Teen tags disintegrating comet
Work experience win for amateur astronomer
It started as a work experience project, and ended with congratulations from the International Astronomical Society: an 18-year-old Cardiff high school student has discovered an unusual fragmenting comet.
Hannah Blyth of St Johns College at Cardiff was working with the Faulks Telescope Project's summer work experience program, and collected a series of images of comet 213P Van Ness.
The group was originally examining new, faint asteroids, which Blyth had also discovered – the fellows at Faulks say the team she was working with turned up an impressive 20 new asteroids during the summer project – when what Discovery called a "mountain-sized" fragment was identified in the 213P Van Ness images.
According to astronomer and project leader Nick Howes: "As soon as we saw the images, we knew something had kicked off in the comet's tail. We were frantically communicating with each other over Twitter, e-mail and Facebook, just staggered with the huge fragment we were seeing drifting back along the comet's tail".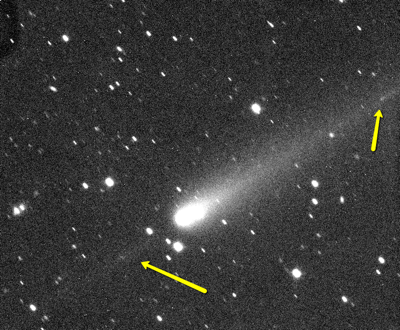 Comet 213P Van Ness showing the fragments. Source: Faulk Telescope Project
The Faulks Telescope consists of two instruments – on in Hawaii and one in Australia – which are remotely controlled from Glamorgan. The images of 213P Van Ness were taken by the Hawaii telescope.
According to Discovery, the fragments may have separated from the main body of the comet as much as six years ago. ®
Sponsored: Minds Mastering Machines - Call for papers now open