Dell Alienware M18x 18.4in gaming notebook
Playing away from home
Port authority
The 54mm Express Card and 9-in-1 card reader slots sit neatly above the slot-loading optical drive on the right, followed by two USB 2.0 ports and an eSata/USB 2.0 combo. There's also an HDMI-in port – hardly a system-seller, given the ubiquity of HDTVs, but a novelty which should find occasional use. Nothing along the front, as you'd expect, but those iconic grilles cleverly double as speaker vents for the impressive Klipsch-powered audio. Lastly, the rear is wisely left port free, with just the power socket placed between four main ventilation grilles.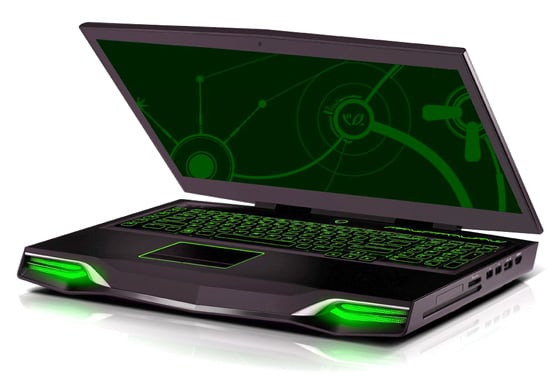 Among the ports is an HDMI input enabling the screen to be used by external devices
The design isn't flawless, though. The membrane media bar is fiddly and unresponsive. More concerning, despite the soft touch rubber, the sharp edge above the front left grille presses painfully into the wrist when reaching for the WASD keys. You can disable the trackpad and reconfigure the keys more centrally, but, at 53mm in height, it's still an uncomfortable climb over the smoother central slope.
As with all Dell computers, the M18x is highly configurable, making any evaluation relative. The only standard components are the chassis and glossy 18.4in 1920 x 1080 WLED LCD screen. Fortunately, that screen is top-notch, with exceptional HD picture quality, stunning contrast and brightness, and excellent viewing angles.
Opting for the base model's single Geforce 460M graphics card is like installing a Golf GTI engine in a Ferrari. It might be reasonably nippy, but it's way short of the power the marque promises. I'd suggest the test unit supplied – itself a mid-to-low configuration – should be considered the true entry-level model.
With its 2GHz i7 2630QM CPU (Turbo Boost to 2.9GHz) and paltry 4GB of 1333MHz RAM, the only additions to make the difference during testing were the dual 2GB GDDR5 AMD Radeon 6970 GPUs in CrossfireX and the two 500GB Momentus XT drives in Raid 0 "Stripe". Initial misgivings aside, the results were nonetheless impressive.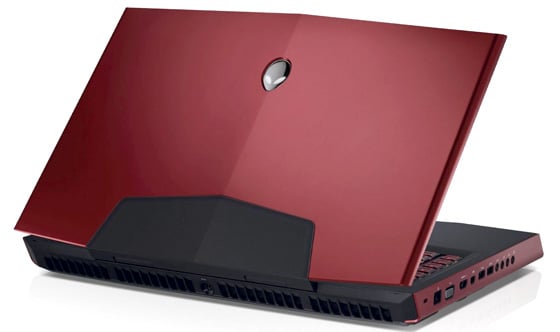 Configurations start at £1700 and can climb to around £5k
The M18x scored 10050 in PCMarkVantage – way ahead of the 17in laptops and MacBook Pros tested recently. In 3DMark Vantage it achieved 9856 on the extreme settings, with the GPU rated at 9633. PCMark 7 scored 3273, while 3DMark 11 scored 1910 on extreme settings, which, although perfectly acceptable, reflect the low RAM and lack of SSD on the review model.